Cheltenham Music Festival returns 2-11 July with 10 days of star performances and 21 world premieres. Visitors can expect Free Stage performances and Live Jazz concerts in a special celebratory weekend bringing Cheltenham Jazz and Music Festivals together...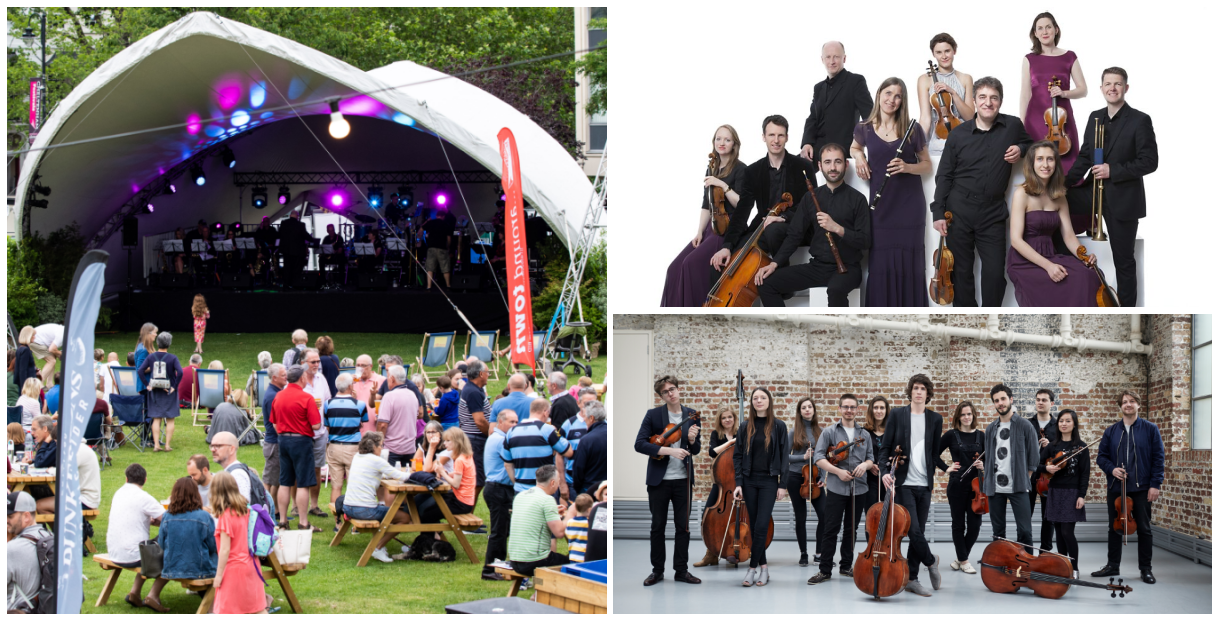 Images - Free stage at previous Cheltenham Music Festival (left), La Serenissima (top), The 12 Ensemble (bottom).
Cheltenham Music Festival has announced a packed 10-day Festival taking place between 2-11 July. After having to cancel last year's Festival due to the pandemic, the Festival is back with a full programme featuring symphony orchestras, world-class ensembles, star soloists, world premieres and up-and-coming talent, and includes films, talks and a musical ramble around Highnam in the footsteps of Hubert Parry. Concerts with socially-distanced audiences are taking place in venues in and around Cheltenham, including the Classic FM Stage in Cheltenham Town Hall, Cheltenham Playhouse, Parabola Arts Centre, Gloucester Cathedral, St Gregory's Church and Pittville Pump Room.
In a special celebratory weekend bringing Cheltenham Jazz Festival and Cheltenham Music Festival together, 9-11 July will see the return of the hugely popular Free Stage, which will host an array of acts in Imperial Gardens across the weekend, showcasing a wide range of artists from the worlds of classical, jazz, indie, folk, Americana and beyond.
And following its two-day digital Festival over the May Bank Holiday, Cheltenham Jazz is back in real life at Cheltenham Town Hall with six unmissable in-person concerts on 10 and 11 July.
Cheltenham Music Festival 2021 - Unmissable highlights
Top international artists including Martyn Brabbins and BBC National Orchestra of Wales, Dame Sarah Connolly, Imogen Cooper, Jess Gillam, Kirill Karabits and Bournemouth Symphony Orchestra, Albion Quartet, Matthew Barley and Steven Osborne.
Four lunchtime concerts broadcast live on BBC Radio 3 with the BBC New Generation Artists.
Classical Mixtape comes to Gloucester Cathedral, including a tribute to the Gloucestershire Regiment's 70th Anniversary of the Battle of the Imjin River and those lost to the pandemic over the past 18 months.
21 World premieres including a work giving voice to the asylum seekers caught up in the US government's controversial family separation policy and a live digital performance of Ballad of a Changing World, focussing on climate change.
41 schools have already signed up to watch the digital Concert for Schools presented by YolanDa Brown which will introduce over 6,700 school children to jazz and classical music.
Camilla King, Head of Programming at Cheltenham Music Festival, commented: "I am tremendously proud that our team will bring world-class performances to Cheltenham this summer. For those who love classical music, whether professional or amateur performers, creators or audiences, it has felt that the industry is standing on a precipice. I have no doubt that, as the first note sounds in our beautiful Cheltenham Town Hall for the first time in nearly 18 months, it will be an unforgettable experience."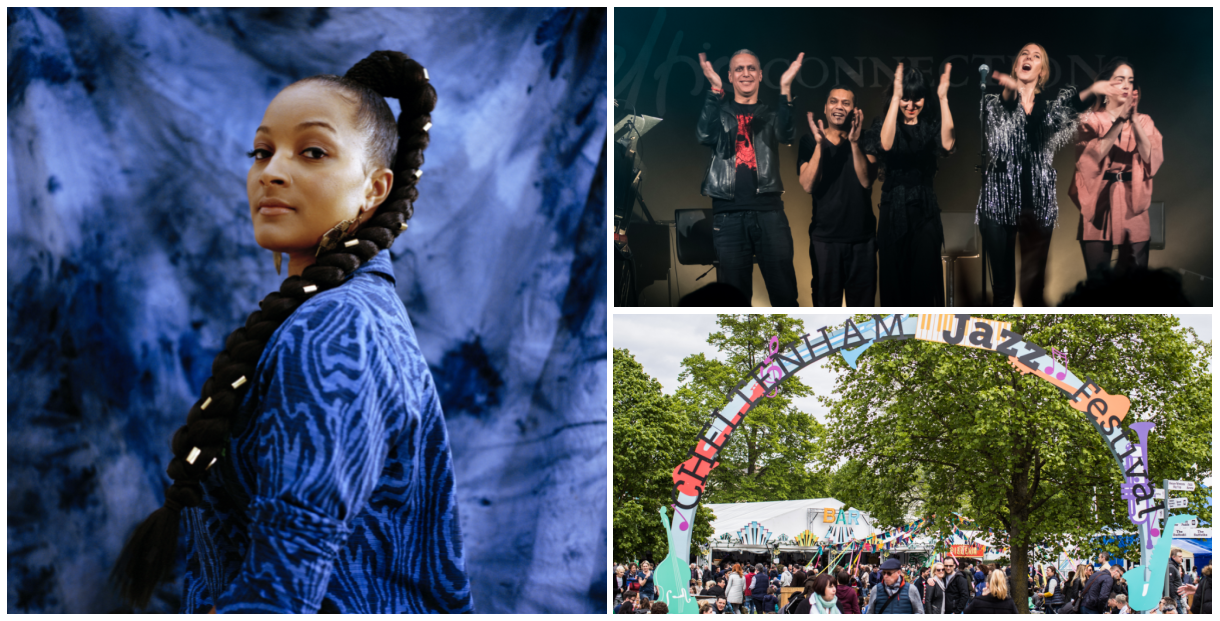 Images - Nubya Garcia (left), Nitin Sawhney (top) and Cheltenham Jazz Festival free stage from previous event.

Cheltenham Jazz Festival 2021 - Unmissable highlights
Performing on Saturday 10 July are multi-award-winning saxophonist Nubya Garcia, rising star jazz and soul singer Poppy Ajudha, and one of the most revered artists within the British electronic and fusion scene, Nitin Sawhney.
Sunday 11 July sees acclaimed bandleader, multi-instrumentalist and producer Emma-Jean Thackray, trumpeter, producer, DJ and founder of Gondwana Records, Matthew Halsall and closing the weekend's festivities: Penguin Café, who will showcase their eclectic blend of folk, jazz, pop and chamber music influences.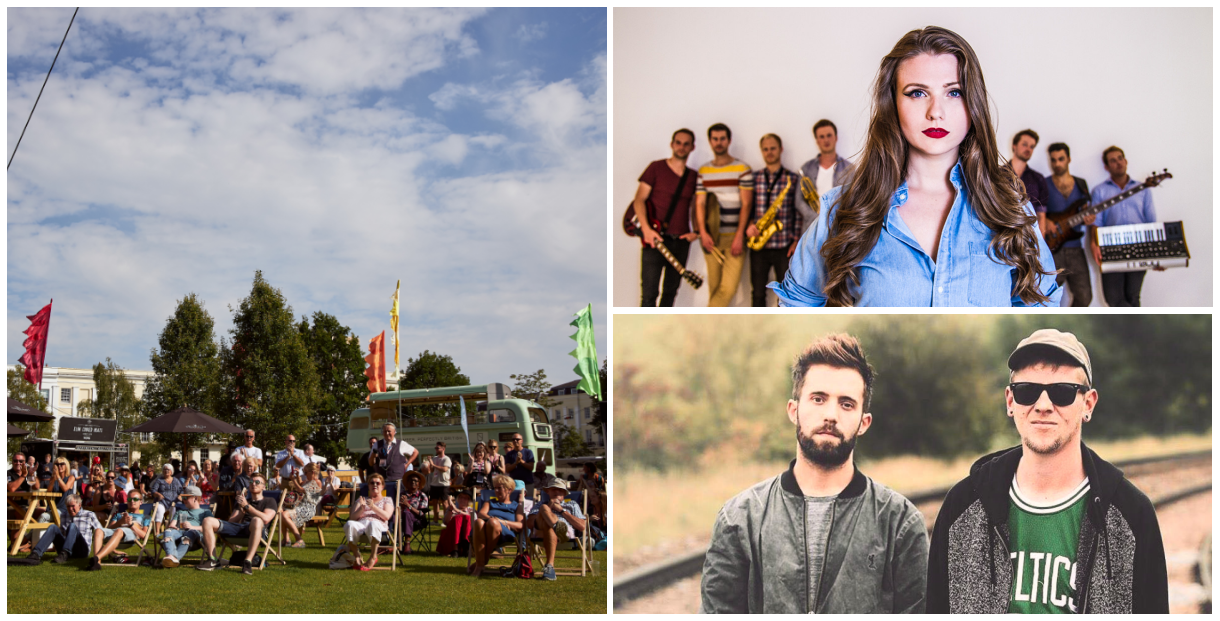 Images - Cheltenham Music Festival Free Stage, previous year (left), Latimo (top), Showhawk Duo 2 (bottom)
Music Weekend Free Stage
Incorporating Cheltenham Music Festival with Cheltenham Jazz Festival, the outdoor Free Stage hosts three days of the best up-and-coming performers from the worlds of classical, jazz, indie, folk, Americana and beyond. Highlights include powerhouse eight-piece pop-funk band LATIMO [9 July], Elles Bailey [10 July] and The ShowHawk Duo [11 July].
Appearing on the Free Stage in real life after their digital Jazz Festival appearance in July are the all-female ensemble Birmingham Town Hall and Symphony Hall's Rise Up, and 21st century crooner Quiet Man. Local talent includes Cheltenham-based rising stars Yeti's Breakfast, Maisie Gaffney and Russ Poole, and bringing the Festival atmosphere to the streets of Cheltenham, Unswung Heroes, 3D Brass and Year of the Dog will perform roaming sets courtesy of Cheltenham BID.
There's plenty for families to enjoy including Lilliput concerts for pre-schoolers, a percussion workshop from GMizz, face painting and circus skills

Full festival details can be found at www.cheltenhamfestivals.com/music
Members priority booking opens on 4 June 2021
General public sale opens on 14 June 2021
Related
0 Comments