The Gloucestershire Warwickshire Steam Railway (GWSR) has received a welcome further Culture Recovery Fund for Heritage (CRFH) grant following its bid application to the Department of Culture, Media and Sports, according to a Government announcement on Friday 2nd April.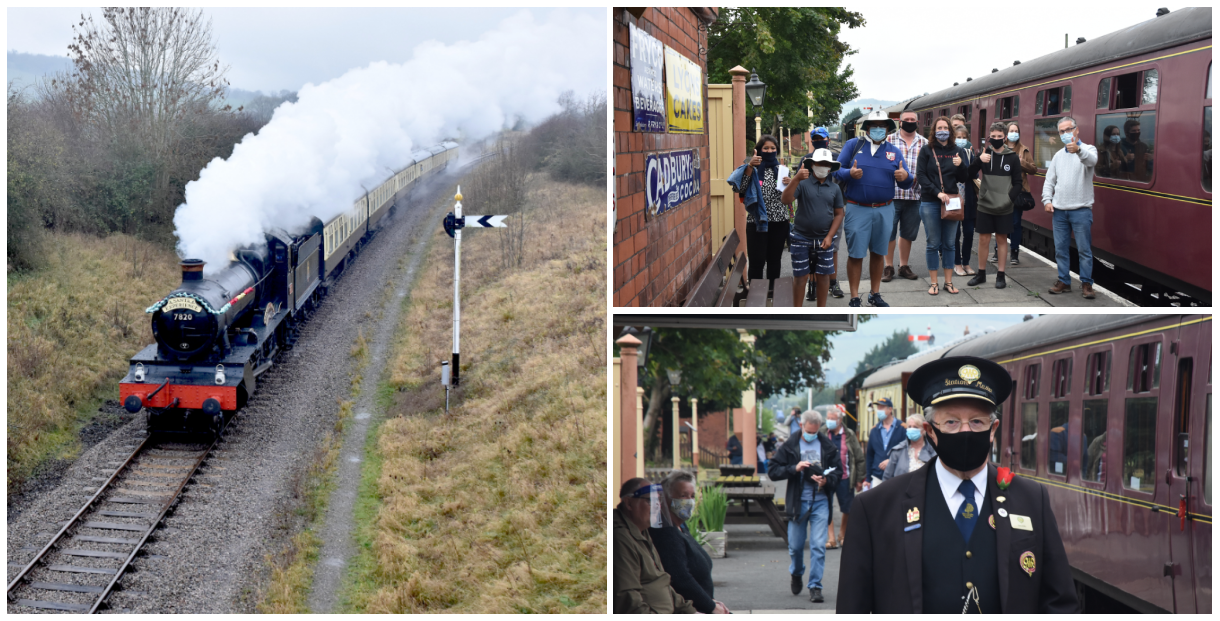 The Round 2 grant is for up to £71,800, which will help the 14-mile Cotswolds heritage railway in its recovery from enforced closures and cancellations thanks to the Covid-19 pandemic. The railway reopens on Tuesday 13th April with a Covid-secure service, having remained closed over the important Easter holiday and comes at a time when the railway is preparing to celebrate its 40th anniversary.
Round trips of the railway starting and finishing from Toddington station GL54 5DT are bookable online from www.gwsr.com but the trains are of reduced capacity to permit social distancing. Full services and re-opening of the railway's other stations at Cheltenham Racecourse, Gotherington, Winchcombe and Broadway are not expected to resume before the end of June, subject to continuing Government guidance.
In addition, Dinmore Manor Locomotive Limited, which is based at the Toddington workshops of the GWSR, has received a second grant of up to £12,800 to support the ongoing £400,000 major overhaul of its 1942-built Great Western 2-8-0 locomotive no. 3850. Its first grant was for up to £26,100.
The funds are designed to assist essential overhead costs through to 30th June 2021 and must be used by this date. The GWSR has seven staff and over 950 volunteers.
Last year, the railway suffered a 77% drop in passenger numbers, thanks to lockdown and reduced capacity of trains when they were able to run.
A spokesman for the railway said: "The Culture Recovery Fund is a key initiative to help a wide range of heritage organisations recover and reopen from enforced closures and cancellations, designed to contain the virus and save lives. We are deeply grateful to the Government for recognising the importance of underpinning the security of Britain's rich and diverse heritage, including the GWSR."
Culture Secretary, Oliver Dowden, said: "Our record-breaking Culture Recovery Fund has already helped thousands of culture and heritage organisations across the country survive the biggest crisis they've ever faced. Now we're staying by their side as they prepare to welcome the public back through their doors - helping our cultural gems plan for reopening and thrive in the better times ahead."
The funding awarded now is from a £400 million pot which was held back last year to ensure the Culture Recovery Fund could continue to help organisations in need as the public health picture changed. The funding has been awarded by National Lottery Heritage Fund and Historic England as well as the British Film Institute and Arts Council England.
What is the Culture Recovery Fund for Heritage?
At the Budget, the Chancellor announced the £1.57 billion Culture Recovery Fund would be boosted with a further £300 million investment. Details of this third round of funding will be announced soon.
The Government's £1.57 billion Culture Recovery Fund helps organisations to recover and reopen. Nearly £400 million has been awarded to thousands of cultural organisations across the country in the latest round of support from the Culture Recovery Fund, the Culture Secretary announced on Friday 2 April.
Over £800 million in grants and loans has already been awarded to support almost 3,800 cinemas, performance venues, museums, heritage sites and other cultural organisations dealing with the immediate challenges of the coronavirus pandemic. This brings the Government's total investment across grants, capital and repayable finance from the Culture Recovery Fund so far to more than £1.2 billion across over 5,000 individual cultural and heritage organisations and sites. The second round of awards made today will help organisations to look ahead to the spring and summer and plan for reopening and recovery.
After months of closures and cancellations to contain the virus and save lives, this funding will be a much-needed helping hand for organisations transitioning back to normal in the months ahead.
Related
0 Comments