Pioneering Sri Lankan restaurant group The Coconut Tree has promised to take part in the Government's 'Eat Out to Help Out' scheme - but will extend the offer to apply a 50% discount to ALL food and drink.
There will also be no limit on the discounted amount (the government scheme caps the total discount at a maximum of £10 per head) - meaning all customers who visit between Monday and Wednesday, throughout August, will receive 50% off their total bill for all food and drink including alcohol. (The government scheme is for non-alcoholic drinks only).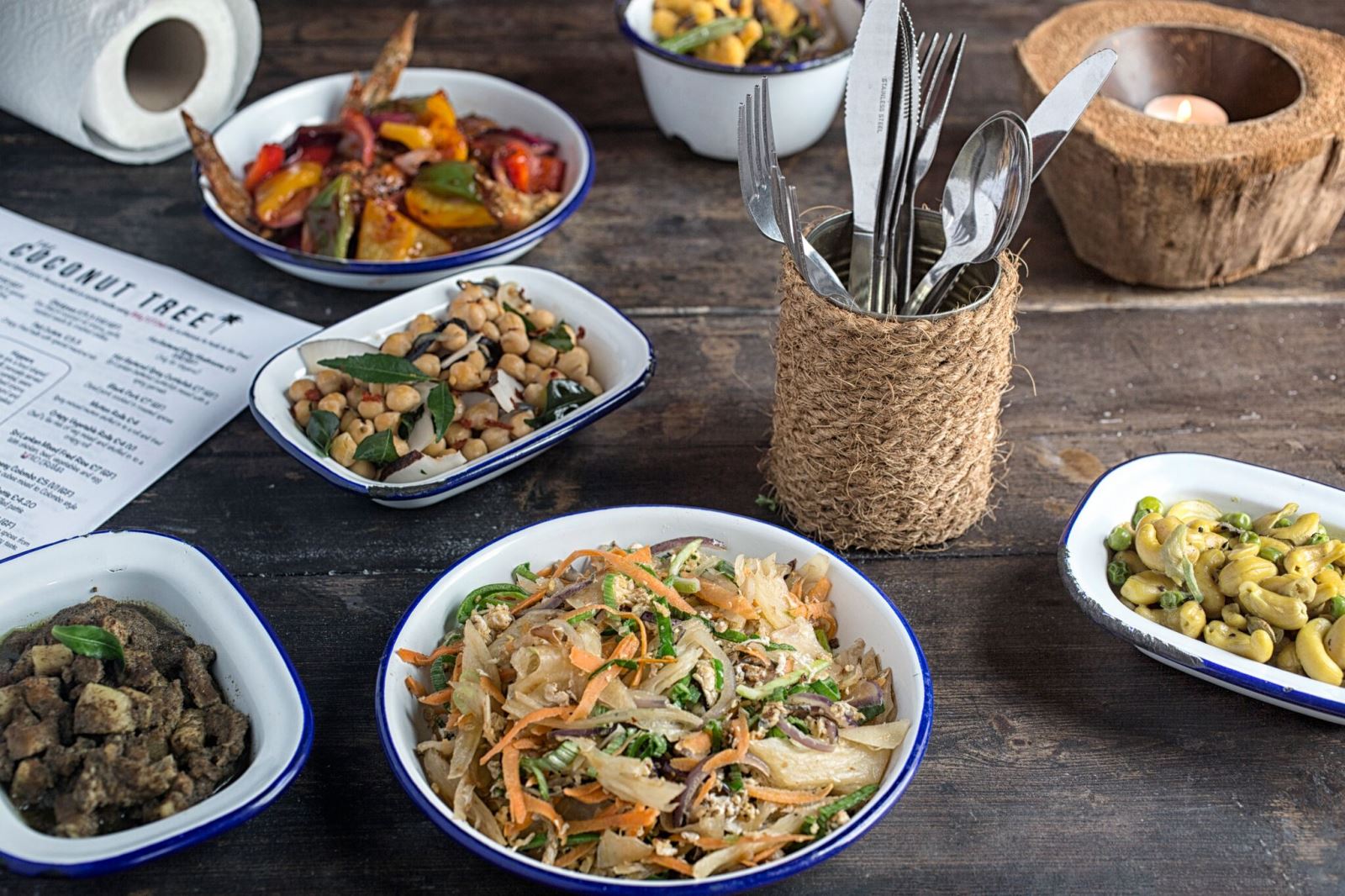 ** For a full list of 50+ restaurants, bars and cafes taking part in the Eat Out to Help Out scheme in Cheltenham click here - Eat Out to Help Out in Cheltenham **
The casual dining group is hoping to incentivise a new wave of customers to try their vibrant take on fresh, Sri Lankan street food.
Operations Director Rashinthe Rodrigo said, "Sri Lankan cuisine is still relatively new to many people in the UK, and we really want to change that. By extending the Eat Out to Help Out offer, we hope to introduce a whole new wave of customers to our food which is naturally fun and full of flavour."
Brand Director Anna Garrod continued, "Sri Lankan comedian Romesh Ranganathan recently described Sri Lankan cuisine as 'nothing like Indian: it's hotter, drier, has a different array of flavours, and has distinct staples, like hoppers and coconut sambol' – these are both key components of our menu at The Coconut Tree and we're really looking forward to showing them off again!"
Two new 'hybrid' dishes have also been added to The Coconut Tree menu in time for reopening:
Devilled Pork & Pineapple: Mixing two famous Sri Lankan dishes, this spicy, sweet, tangy and sour dish is a vibrant mix of juicy belly pork, red chilli, onion and banana peppers with garlic, spring onion and seasoning. The pork is cooked in the spices, before the veg is finished on a hot plate with the pineapple 'Achcharu Style'.
Chicken Curried Kotthu: Two of The Coconut Tree's best-loved and best-selling dishes come together for the first time; Vegetable Kotthu (finely chopped roti cooked with egg and vegetables, cooked on a searing hot plate), topped with juicy chicken off-the-bone in a rich curry sauce made with fennel, cardamom, cloves, cumin, house curry powder, onion and cinnamon.
In recent years, Sri Lankan food has been having a moment, with The Times identifying it as a key food trend, and BBC Food attributing its popularity to "most of the food world looking towards exciting new cuisines." At the beginning of 2020, Great British Chefs wrote, "Sri Lankan cuisine is finally getting the recognition it deserves - rather than being lumped in with Indian dishes".
The Coconut Tree's take on the cuisine is made up of smaller tapas-style dishes embracing plants, fish and meat - it's a menu that naturally offers something for everyone.
Whilst curry dishes are featured, The Coconut Tree's curries never use masala, typical lemongrass or other more common Asian flavours, instead promising plates of flavourful food infused with authentic Sri Lankan spices.
Popular dishes include 'Hot Battered Spicy Cuttlefish'; green peas and 'Cashew Nuts' soaked and cooked in coconut cream; and 'Cheesy Colombo' – cheese cubes fried and mixed Colombo style. 'Jaffna Goat Curry with potato' is also a firm favourite, as is the 'Black Pork' which consists of diced pork belly cooked in 30 roasted spices. Finally, 'Kotthu' is a fine example of a street food served all over the country - made with finely chopped roti and cooked with egg, vegetables and / or meat.
To find out more and book a table via The Coconut Tree website.
---
There are 50+ restaurants, bars and coffee shops taking part in the Eat Out to Help Out scheme this August in Cheltenham. For full details see our helpful guide - Eat Out to Help Out in Cheltenham.
Related
0 Comments