With government guidance easing the restrictions on non-essential retailers from Monday 15 June and hospitality businesses from 4 July, we're pleased to say that Cheltenham is open once again!
The last three months have been new to us all and we've all been missing something, whether that's buying some new shoes, heading out for a meal or catching up with friends and family (without a screen). With wide open streets, plenty of parks/gardens and of course, a fantastic array of shops, restaurants and bars, it's the ideal time to head into Cheltenham, have a wander with friends, shop, catch up and reconnect. All the things you've been looking forward to over the last few months. And we can't wait to welcome you.
To help you we've created this page to answer any questions you may have prior to visiting Cheltenham and tips to help with your visit. Make sure you also check out our helpful pages on things to do when you're here once you've read the below!
Page updated 16 July.

Know Before You Go
The world has changed considerably since March. Although many hospitality businesses are allowed to open from the 4 July, due to different restrictions and logistics to put in place opening dates may vary widely. To ensure you are prepared for the changes and 'Know Before You Go' about restricted services and facilities we ask that you take the following steps prior to visiting Cheltenham…
Book your accommodation in advance. Hotels, B&B's and campsites are operating at a reduced capacity to allow for social distancing. We expect demand to be high for hotel rooms, campsites etc so please book before you travel to avoid disappointment.
Look out for the 'We're Good To Go' mark. This shows that a business has followed the government and industry COVID-19 guidelines. The industry standard launched by Visit England, launched in collaboration with other tourist organisations and the UK government is a way of letting you know which businesses have made necessary changes to their day-to-day workings, including social distancing measures and staff training. Here are the businesses in Cheltenham that have the 'We're Good To Go' mark. This list will be updated frequently as we hear from more local businesses.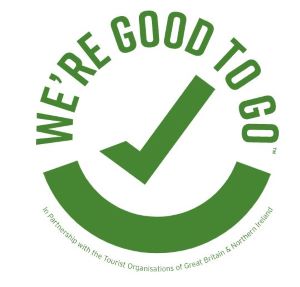 Whilst visiting Cheltenham please #RespectProtectEnjoy
Whilst visiting our beautiful Regency town and surrounding countryside we kindly ask that you #RespectProtectEnjoy…
Respect – Avoid busy places. Place your litter in bins or take home and follow local advice including social distancing measures (listed below).
Protect – Wear the mandatory face coverings whilst travelling on public transportation and in shops including super markets from the 24 July. Please practice good hand hygiene.
Enjoy – Plan and make reservations for accommodation, attractions and restaurants ahead. Discover new places and please support local businesses.
How to get to Cheltenham?
Parking in Cheltenham town centre
All Cheltenham Borough Council car parks and the Regent Arcade Car Park will be open from 15 June. The Regent Arcade car park will be open from 7am and will close at the earlier time of 7.30pm. An officer will be on site to offer help and regular sanitising will be increased. To help with social distancing the car park will remain at 50% capacity. St James Street Car Park will also have reduced spaces due to works to improve lighting.
People are encouraged to use contactless card payments or PaybyPhone. Tariffs are as advertised at each car park. The NHS staff scheme remains operational except at Regent Arcade car park, NHS staff should display their permit which is available from their employer.
You will find further information on displays around each car park. For more information visit Cheltenham Borough Council's website.
Please note that if you're driving, to make sure our visitors are safe, a lane will be closed on North Street so customers are able to queue on the road whilst maintaining social distancing rules. Through traffic will still be able to get through the one way system.
How do I use the park and ride in Cheltenham?
Park and ride is available at Cheltenham Racecourse and Arle Court with increased services. There will be a maximum of 20 people on a double decker bus to allow people to social distance safely. Please check the Stagecoach website for updates on service times before travel. Stagecoach will also be introducing a new feature to the Stagecoach Bus App so travellers are able to see how busy a bus usually is at a particular time, showing when the quieter travel times are.
**Please remember to follow government guidance and wear face coverings at all times when travelling on public transport.
Can I cycle into Cheltenham town centre?
Cheltenham is well set up for cyclists so instead of taking the car or bus, why not hop on your bike? There's handy cycle parking across the town centre. Take a look at this map to find the most convenient one for you.
How do I travel by train to Cheltenham?
Cheltenham station is open to visitors and there are measures in place to ensure passengers are kept safe. Great Western Railway are advising passengers to travel at quieter times, usually between 10am-3pm or after 7pm. To help with social distancing, you'll find that there are reduced numbers of spaces available on trains so please book in advance, ideally using the GWR app and go paperless with your tickets by using your phone. GWR are also advising to give yourself more time at the station to navigate through the one-way system, which is in place to help with social distancing. Remember that it's mandatory to wear face covering when travelling on any public transport. For more information visit: www.gwr.com/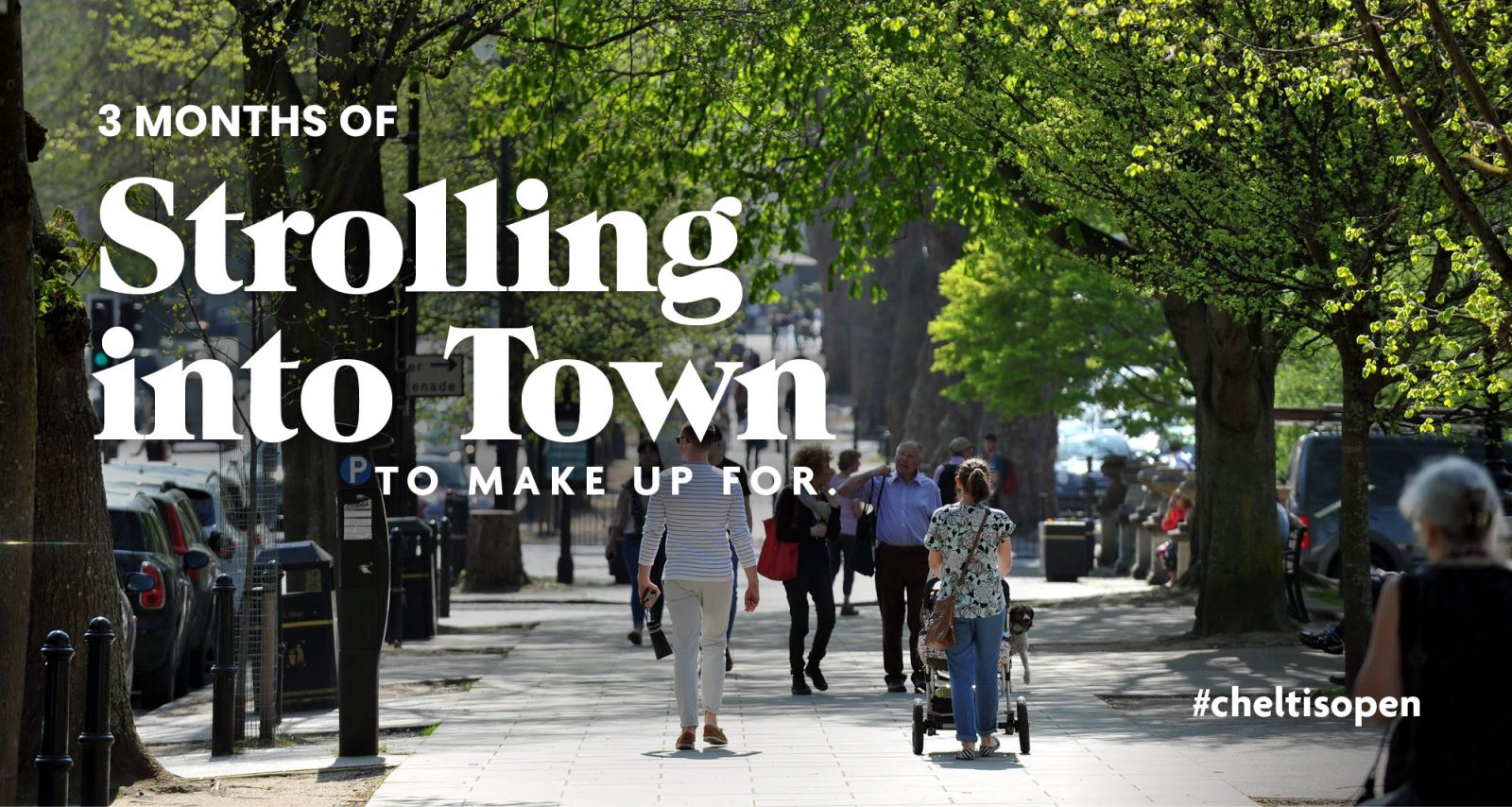 Guidance to shoppers and visitors
What social distancing and hygiene measures are in place in Cheltenham?
We're making sure we're following government guidance so you'll see Cheltenham BID 2 metre social distancing markers to help whilst queuing outside shops, please follow these. We're also taking special precaution when it comes to hygiene, making sure that public spaces such as toilets, benches and handrails are regularly sanitised.
Please also be aware that during key shopping times, shops may be busy and queues may be very long. We suggest that, where possible, if queues are too long you return later. Shopping early or late in the day may mean you're less likely to queue.
Once inside you'll find hand sanitiser at entrances and till points and more social distance markers to keep you safe. Also for your safety you'll find that the fittings rooms will be closed so you'll need to take home and try clothes on there. Some shops will be appointment only so check out businesses websites and social channels to see whether you need to book ahead.
The Cheltenham BID ambassadors will be working with an expanded town centre team, the police and other council staff to help advise both shoppers and the employees of businesses. If you have any questions or concerns, they will be on hand to help you.
Do I have to wear a face mask / face covering when shopping in Cheltenham?
From Monday 15 June, face coverings are compulsory for people working in hospitals and for anyone using public transportation. From Friday 24 July it is compulsory to wear face coverings in shops and supermarkets and you can face a fine of up to £100 for failure to do so. Children under 11 and those with certain disabilities will be exempt.
Which public toilets will be open in Cheltenham town centre?
The main public toilets in Pittville Park, Montpellier Gardens and Royal Well Road are open and summer opening hours apply.
Pittville Park: 7.30am – 7.15pm
Montpellier Gardens: 7.30am – 7pm
Royal Well Road: 7.30am – 7pm
For a full list of public toliets in Cheltenham including those with radar key access for disabled users please visit the Cheltenham Borough Council website.
What are the government guidelines?
When visiting Cheltenham, please ensure you maintain the social distancing rules, keeping one metre plus apart. You can meet with people from outside your household, in groups of up to six people whilst maintaining social distance. We have some lovely parks and gardens in Cheltenham where you can enjoy spending time together.
Who do I contact if I have questions about visiting Cheltenham town centre?
If anyone has any concerns on the arrangements either on the streets or within businesses, please contact info@cheltenhambid.co.uk and either a member of the Cheltenham BID team or Cheltenham Borough Council's Environmental Health team will respond.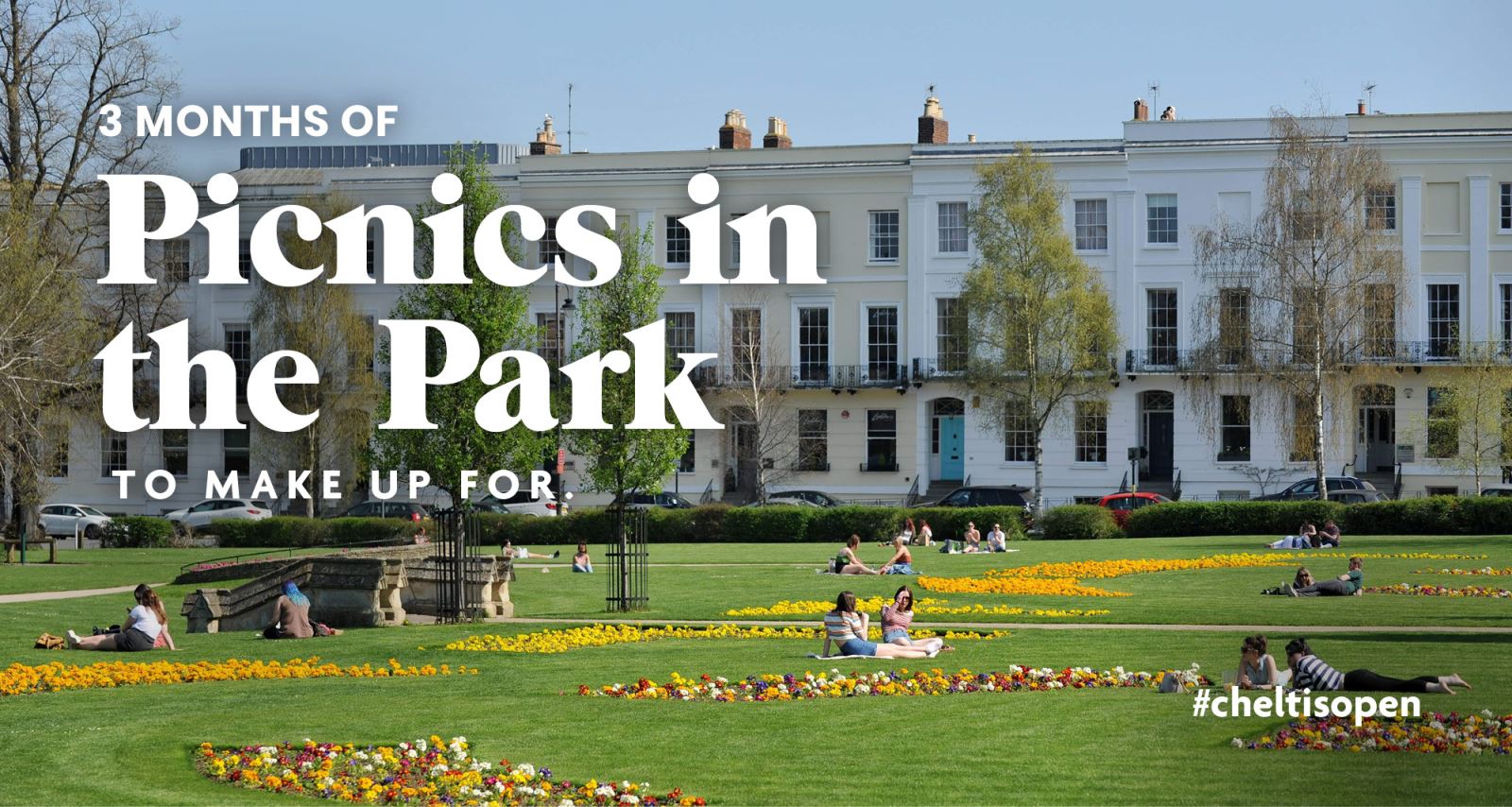 Related
0 Comments