Real ale fans take note! It's not long until the Cheltenham Real Ale Festival returns on the 1st and 2nd November.
With 80 casks of real ales, 20 unique ciders and perries, wine, live entertainment plus food it is sure to be a big hit again, particularly this year with vegans as CAMRA, the organisers, are promising a range of vegan friendly beers to also be on offer.

Breaking with the common practice of choosing real ales from a specific UK region or county, Cheltenham CAMRA will instead showcase the growing vegan beer sector.
"Veganism, and an interest in vegan food and drink, is taking off – particularly in places like Cheltenham", said festival committee member Grant Cook. "So this year we have decided to make things easier by having a specific bay dedicated to vegan beers. This will give more focus on vegan beers and save people having to hunt round the hall to track down compatible ales from among the eighty or so available".
In addition to vegan beer, vegan hot food will be provided by Hogless Roast.
Why is vegan beer different?
The majority of real ale in the UK is fined, producing the bright and clear beer we see in every pub. However, traditionally this has been achieved by adding Isinglass to beer casks. Isinglass is made from the swim bladders of fish and, although it sinks to the bottom of the cask and is not consumed, its use in producing real ale breaches vegan ethical principles.
Vegan compatible real ale can be produced in two ways. The first is to use a vegetable fining agent – either Irish Moss (an algae), seaweed or pea protein.
The alternative is simply not to fine the beer at all. This usually produces a haze in the final product, but the popularity among craft brewers for unfined beers has made this more mainstream in recent years.
"All vegan friendly beers will be clearly marked in the programme, and we will have a selection of vegan food and snacks to complement the beers", said Grant.
"We will also have twenty plus real ciders and perries, which are all naturally vegan-friendly. If there are any vegans who would like to volunteer to man the vegan beer section, or to help promote and explain vegan beers and food, then please contact crafstaff@gmail.com with your contact details, and we'll get back to you".
Cheltenham Real Ale Festival 2019 details...
Once again the venue is Cheltenham Ladies' College, with the wonderful Princess Hall as the centrepiece. Festival dates are Friday 1st and Saturday 2nd of November. Friday will see the festival open from 4pm to 11pm, Saturday will be 11am to 11pm, and there will be live entertainment on both days.
With 80 casks of real ales, 20 unique ciders and perries, wine, live entertainment plus hot and cold food, we expect this to be another popular year for the Real Ale Festival taking place here in Cheltenham, The Festival Town.
More detail about CRAF19 will appear on the Cheltenham Branch Website - www.cheltenhamcamra.org.uk/craf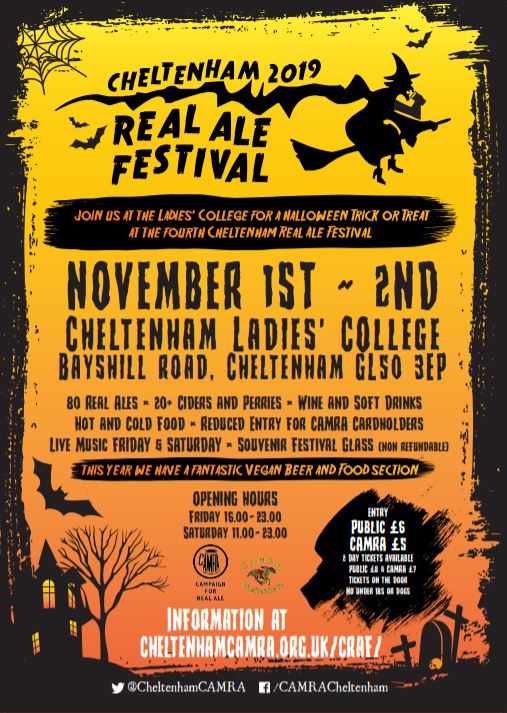 Related
0 Comments