We asked local blogger, Jamie from Thrifty Mumma Thirfty Bubba, to review Peter Pan Goes Wrong on our behalf. It's safe to say, she had a brilliant time! The show is on until Saturday 2 November so make sure you don't miss this fantastic performance!
---
Fast paced, funny and full of mischievous mishaps, Peter Pan Goes Wrong comes crashing into the Everyman.
Following in the footsteps of the multi award-winning The Play That Goes Wrong and The Comedy About A Bank Robbery, the latest offering from the Mischief Theatre Company is a rip roaring, raucous and rambunctious success of a show. We joined the set as the ill-fated Cornley Polytechnic Drama Society prepared to stage their own production of J M Barrie's beloved Peter Pan. As the audience took their seats it became clear that the cast and crew would require more than a little faith, trust and fairy dust!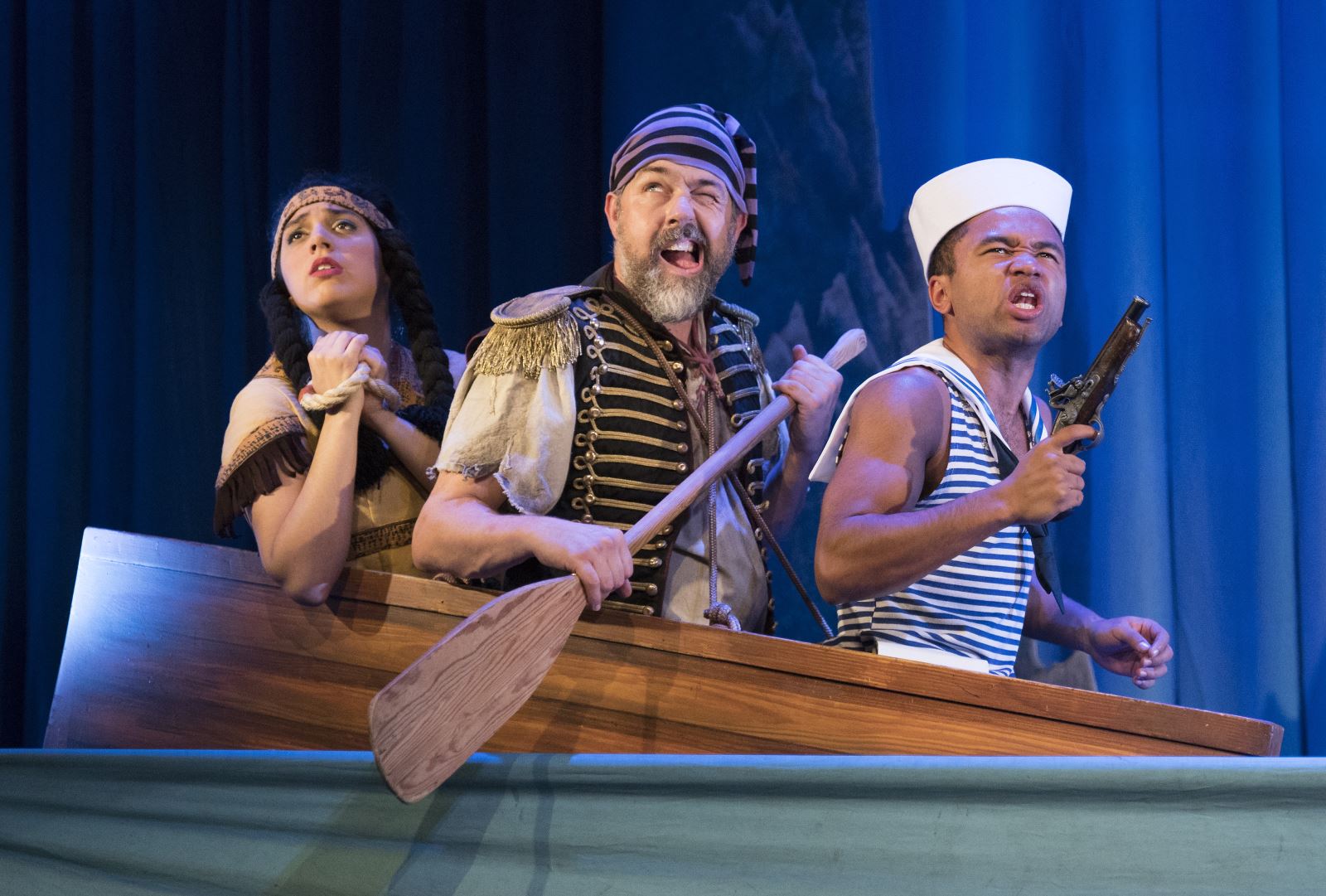 With audience participation a key element of the show from the start, the cast mingled with the public and thus ensued comic capers such as passing an electric cable overhead to plug it in at the back and turn on the stage lights as well as searching for Stage Manager Trevor's (Ethan Moorhouse) missing hammer.
The rivalry between Robert Groves, the self-professed co-director and Chris Bean the strait-laced president striving for perfection is evident as they introduce the show as is customary with all amateur dramatic productions. They are the true boys who wouldn't grow up!
Connor Crawford's portrayal of Chris whose dual roles of Mr Darling and Captain Hook provide cringeworthy errors straight from scene one is both eccentric and endearing. Of course, it takes a certain amount of skill to make a mistake on purpose and Crawford is a master in the art.
Oliver Senton plays egomaniac Robert with ease and is truly thespian in spirit and delivery. His performance as Peter Pan's shadow even manages to upstage Peter Pan (Christian James) on purpose on many occasions!
Throughout the show every theatre tradition is lovingly ridiculed from broken legs and corpsing on stage to forgotten lines and actors playing multiple parts.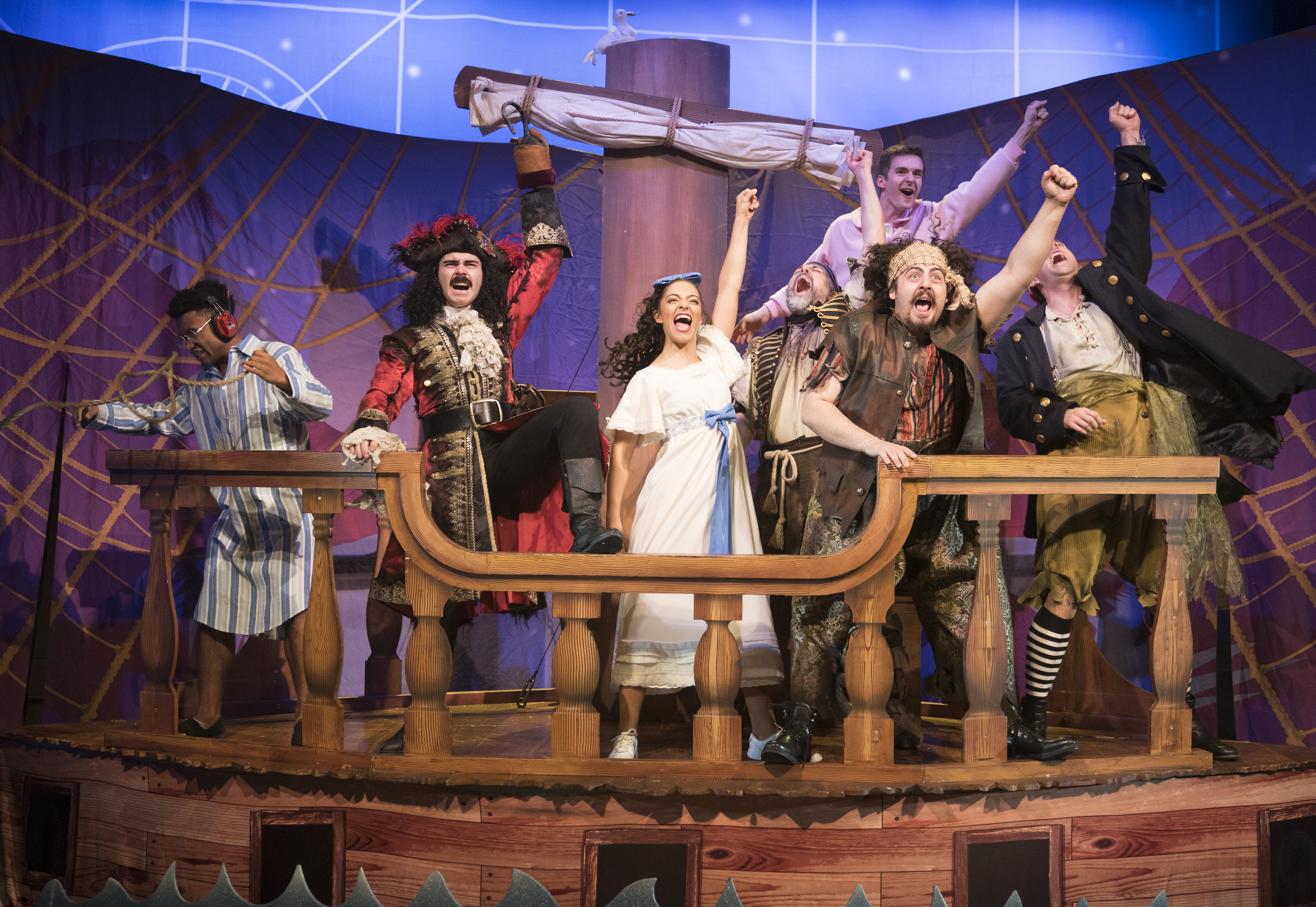 Katy Daghorn's portrayal of Sandra who plays Wendy Darling has the unrelenting enthusiasm of a primary school nativity performance. In direct contrast, Romayne Andrews as Dennis has to rely on a radio headset to deliver his monotone lines as John Darling.
Phoebe Ellabani's unenviable role as Annie sees her switch characters from Mrs Darling, Lisa, Tinkerbell and Tiger Lily with surprising speed and side-splitting facial expressions.
There were eager calls of 'he's behind you' and 'oh no he isn't' much to Captain Hook's annoyance as well as 'awww' for the shy, underappreciated Max (Tom Babbage) and Lucy (Georgia Bradley) who, on her debut performance, slowly overcomes her crippling stage fright.
The technical team were the butt of many jokes as they continuously played the wrong sound effects, set stage pyrotechnics alight at inappropriate times and displayed poor management of the theatrical rigging. The audience were in hysterics as Peter Pan fell from the sky and Patrick Warner's hapless narrator ensured that the show must go on!
However, the real star of the show is the revolving set which takes on a life of its own to hilarious effect. With the Darling nursery, Neverland and The Jolly Roger all depicted, it's a real joy to marvel at the feat of theatre production and come to expect the unexpected.
Peter Pan Goes Wrong has every element of a perfect pantomime – a sprinkling of magic, slapstick comedy and oodles of entertainment. Don't miss out on an awfully big adventure of your own.

To book tickets and to view the upcoming programme for The Everyman Theatre please visit: www.everymantheatre.org.uk.
Related
0 Comments