Before we share this months food events & unmissable special offers we just wanted to say a huge congratulations once again to all of the Cotswold Life Food & Drink Award finalists and winners. Especially the Cheltenham based businesses. We were particularly proud that all three finalists in the 'Restaurant of the Year' category were Cheltenham based – Prithvi, The Coconut Tree and the overall winner, Lumiere Restaurant.
Here is the moment that Helen and Jon from Lumiere were announced as the owners of the best restaurant in the Cotswolds…
Huge congratulations to #Cheltenham based, independent & local produce restaurant, @LumiereChelt for being awarded the Restaurant of the Year at the @cotswoldlife Food & Drink Awards 🙌 #CLFDA @OurChelt @CheltenhamBID #OurChelt pic.twitter.com/Y4FclbuGwe

— MarketingCheltenham (@MarketingChelt) July 8, 2019
Check out the winners of the Cotswold Life Food and Drink Awards here.
---
Want to be one of the first to hear about the newly opened restaurants and bars in Cheltenham? You've come to the right place! Every month we highlight any new dining and drinking establishments that have opened in town, round up the unmissable foodie events and share the best special offers we've come across. To make sure you don't miss out subscribe to receive our free fortnightly newsletter.
Latest foodie news…
New Chaplais Kitchen bistro to open in Montpellier

The 'ordinary made extraordinary' is the goal at the new Chaplais Kitchen which is due to open in Rotunda Terrace, Montpellier Street very soon.
The bistro café will be the sister site to the well-known bakery, café and delicatessen Maison Chaplais in Tivoli.
Chaplais Kitchen will be less of a deli and more of a café bistro with fresh 'grab-and-go' food such as pizzas, salads and pastas. There will also be seating for 18 downstairs and 18 outside with the aim of attracting customers to enjoy their favourite family food in a lovely space, and minus the effort! The bistro will offer brunch, lunch and dinner options with last orders at 8.45pm. You'll be able to watch your fresh pizzas and pastas being made and there will also be spare ribs and salad bowls. For more information click here.
MUSE Brasserie launches new summer menu to delight all of the senses

MUSE Brasserie, a French European restaurant with a twist, is promising diners' not just delicious healthy dishes this summer but a unique sensory food experience with the premiere of their new seasonal menu.
Chef Director Franck Grillet along with Chef Pramod Tirungari have created some truly special and unique summer dishes, some even come with the added theatre of being served within a cloud of aromatic smoke as featured here...
Summer diners can expect roasted scallops with broad bean, Parma ham and pea puree or the Chickpea flour dusted crispy okra with tamarind coulis for starters. While for mains they may like to try the Sea Bass, flattened rice pulao in Goon fish sauce or the Portobello mushrooms with smoked tofu and ratatouille with tomato sauce.
Also worth keeping in mind is Happy Hour at Muse Brasserie between 5-6.30pm Tuesday – Saturday, when you can buy one get one free on all drinks!
Local B&B being recognised for exceptionally good service and an outstanding breakfast
We are delighted to announce that elegant historical regency townhouse The Bradley Bed and Breakfast in Cheltenham has been shortlisted as one of the best B&B's in the world by the prestigious Food & Travel Reader Awards. (If you have stayed at The Bradley and would like to cast a vote in the B&B category your vote would be very much appreciated - https://foodandtravel.com/awards).
---
Great special offers…
Kids eat for just £1 at Carluccios all summer
Carluccio's take great pride in being the home of big smiles and small prices and they have always appreciated the importance of famiglia. The *'Kids Eat For £1' special offer is valid with every regular adult main bought over the summer holidays.
*Terms & Conditions: *1 x £1 kid's meal from Kid's menu with the purchase of an adult main. Kid's must be aged 10 years or under. This offer is valid from Monday to Sunday between 12 noon until 5pm. July 2019 to end 1st September 2019.
Kids eat for FREE at The Coconut Tree (all year round!)
This isn't a new offer but it's one we've just recently heard about and have been raving about ever since!
*Terms & Conditions: Kids under ten eat free with a purchase of an adult main all year round.
Free bottle of Prosecco at the Holiday Inn Express
There is currently a brilliant incentive to book a relaxing break at the centrally located Holiday Inn Express Cheltenham… a free bottle of fizz! If you are a prosecco fan pop over to the website for more details.
Terms & Conditions: Bookings must be over the value of £75.
Bottomless Sunday lunch at the MUSE Brasserie!
If bottomless drinks with a delicious Sunday lunch sounds like your perfect way to celebrate the end of the week read on.
MUSE Brasserie, located on St George's Place have launched a bottomless tipple Sunday lunch offer this August! Guests can enjoy a delicious Sunday lunch which will include unlimited red or white wine, prosecco or mocktails for two hours while they dine; one course is just £21, two courses, £25 and three courses £28. Click here for more details.
Alice in Wonderland themed afternoon tea at The Ivy Montpellier Brasserie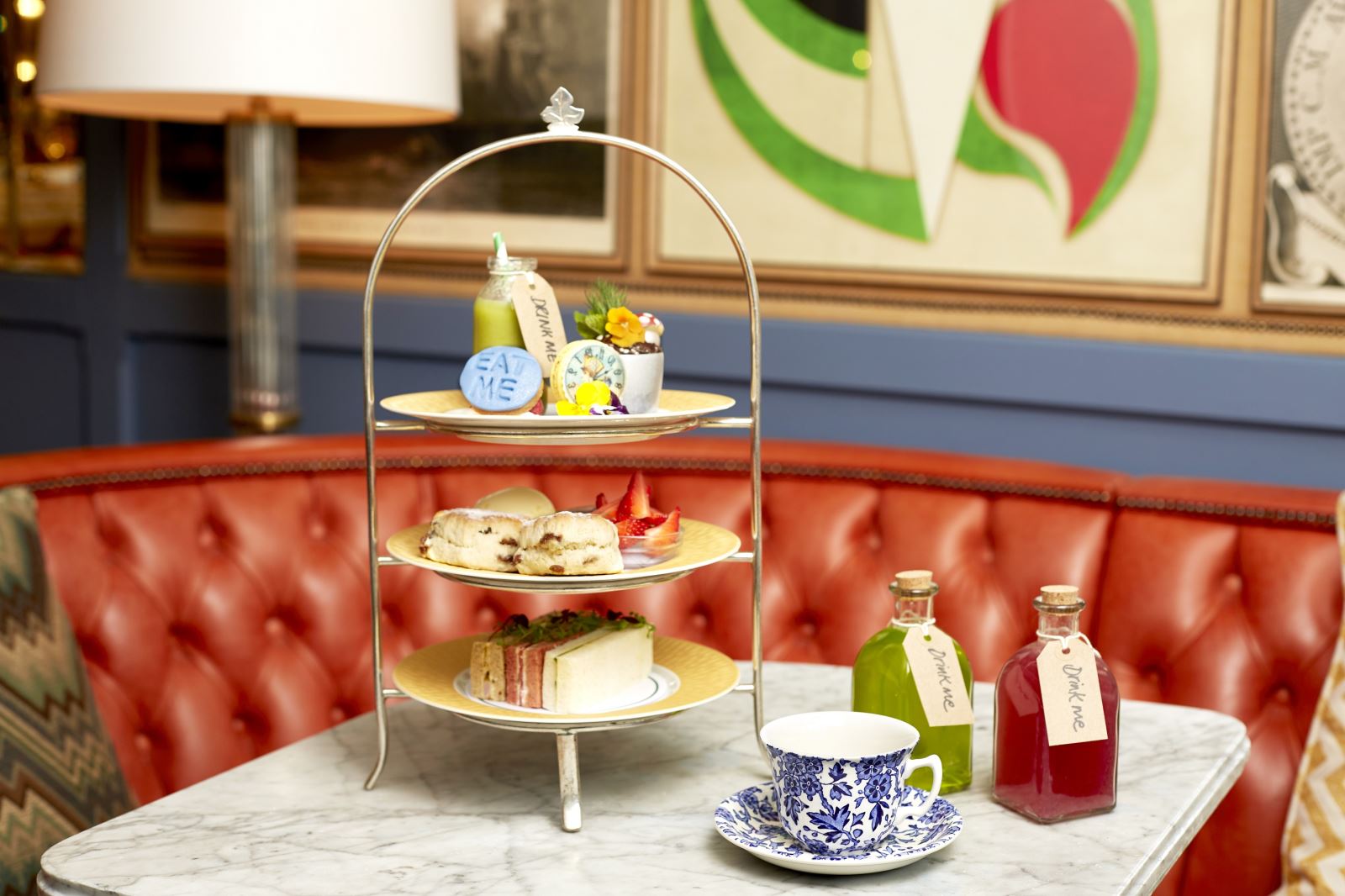 To celebrate Cheltenham being the location in which Lewis Caroll was believed to have met the original Alice The Ivy Montpellier Brasserie have created a special afternoon tea. The limited-edition tea will be available throughout the month of August, including Afternoon Tea Week, taking place from Monday, 12 to Sunday, 18 August.
---
Upcoming foodie events…
The summer is definitely a popular time on year for great food and drink events. Here are a few over the next month which guarantee to be a mouth-watering experience…
Tuesday 6th August
Head Chef James will be plating up 3 different style tacos, along with a chosen Mexican style cocktail, all for £16. Don't miss out and get on down to the Tavern this Tuesday for a slice of Mexican food with a twist.
Friday 16th, Saturday 17th and Sunday 18th of August - Rum and reggae are on the agenda for a taste of the Caribbean. There will be an incredible line up of food, live music and even some rum soaked pineapple from the tiki bar.
Friday 23rd, Saturday 24th , Sunday 25th and Monday 26th of August - Think crisp whites, Cote D'Azur chic, seafood and rose wine to celebrate the very cool and sophisticated St Tropez. Acoustic music and guest DJ's are sure to entertain you.
Friday 30th, Saturday 31st of August and Monday 1st September - A weekend of Aussie style BBQ's! Surf your way through their ultimate cocktail list while catching the last summer rays.
Next walking tour - 10th August. (A monthly event, future guided walks will take place on 7th September & 12th October).
A guided walking tour around Cheltenham and its Anglo-Indian past with Phillip, a reenactor guide, dressed as Captain Henry Skillicorne, the man who developed the first spa in Cheltenham.
Cheltenham was once called an 'Anglo-Indian Paradise' and the 'Calcutta of the Cotswolds' because outside of London, Cheltenham had the most Anglo-Indian residents in Britain. This walking tour ends at 'The Spice Lodge' Indian restaurant to sample some of the flavours from that legendary era. Click here for more details about this monthly event.
7 - 8th August & 20 - 22nd August
Fun for kids (and those young at heart!) Various activities taking place incuding a trailer tour of the farm, egg collecting, pig petting and other animal encounters. Click here for more details.

9th & 30th August, 9am – 2pm, the Promenade
Have a stroll among the stalls selling all sorts of locally grown and produced delicious treats from meats and charcuterie, to fruit and vegetables, desserts, preserves and pickles, cakes, bread, cheese and plants.
24th August, Coxhorne Farm, London Road, GL52 6UT
Every so often the four siblings from Sibling Gin release a distillery tour date but once tickets are gone, they're gone! Distillery tours last around two hours and includes a tour, tasting and education on all things gin followed by gin 'pub quiz', seasonal gin tastings and G&Ts for everyone (tea, coffee and soft drinks provided for non-drinkers and spittoons for the tasting). Tickets just £25 each.
Saturday 31st August 3.30pm – 9pm at Dunkertons Organic Cider, Dowdeswell Park, Cheltenham.

Expect live music from the amazing Funky Jets and DJ Lisa Unique, freshly prepared food from The Tavern as well as a range of delicious award-winning ciders and perry, and non-alcoholic and child-friendly juices. Our children's corner will have plenty of activities to keep the little ones entertained. More details here.
---
And last but certainly not least, two events to add to your diaries for next month...
Tuesday 3rd September
Say farewell to Summer 2019 in a spectacular way at Ellenborough Park. Guaranteed to be a fantastic evening filled with Chase Distillery gins, an expertly grilled BBQ and live music on the lawn.

13 – 22 September, various locations.
The popular Cheltenham Beer Week is back with a whole host of events hosted at local bars, pubs, restaurants and breweries. Expect 'meet the brewer' evenings, food and beer matching, tutored tastings, themed beer quizzes, tap takeovers, talks from some of the best known writers and brewers in the UK plus much more.
Related
0 Comments