With the promise of sunshine after all the rain and with a show for everyone, there's plenty of reasons to be excited for Cheltenham's one and only annual Open Air Theatre Festival at the Tuckwell Amphitheatre!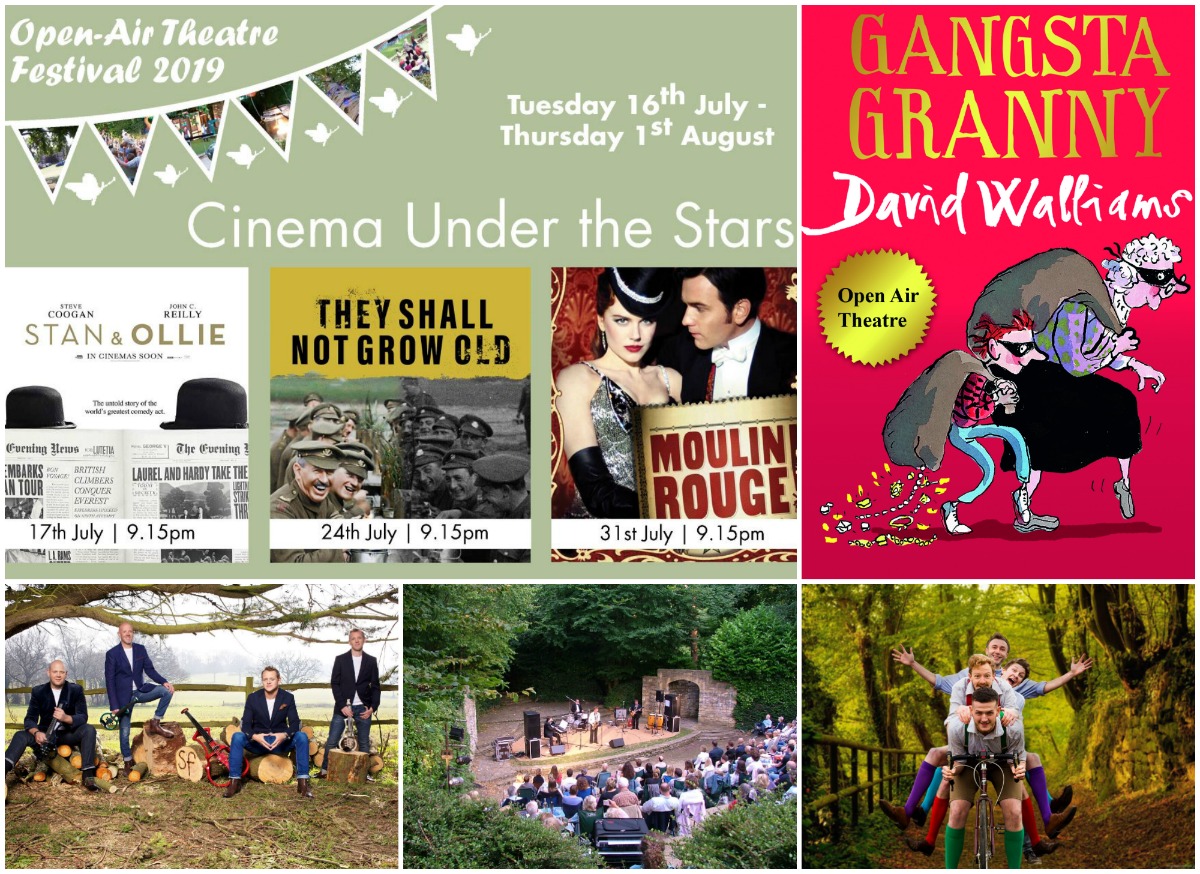 Kicking off the Open Air Theatre Festival in style on Tuesday 16th July 2019 are the charming Handlebards - the world's first cycling Theatre Company, with a bicycle-powered production of Shakespeare's 'Much Ado About Nothing' like none other. Being eco-friendly grows ever more important and this team go above and beyond to do their bit, pedalling from venue to venue with all the set, props and costume necessary to perform environmentally sustainable Shakespeare across the globe!
Next up, if you love live music, then the Tuckwell Amphitheatre is the perfect setting to sit back, relax and settle in as the sun sets. This year we are delighted to announce that we have not one, but two evenings of live music in store! First up, we are excited to introduce festival goers to String Fever, following their popular performance in the Bacon Theatre last year, this unique quartet perform everything from pop to classical tunes. We are also delighted to welcome back Cheltenham's very own Peter Gill for his ever popular Swinging Summer Evening.
Further into the festival we have a great selection of fun family shows for kids both big and little! Favourites include:
Tuesday 23rd July
Heartbreak Productions: Gangsta Granny
Tuesday 25th July
Box Tree Productions: The Legend of King Arthur
Sunday 28th July
Cheltenham Youth Theatre: Age of Winter
Tickets are selling fast, so we advise booking now to avoid disappointment…
Cinema Under the Stars
These evenings are a particular highlight as festival goers wait for the sun to set and huddle up for an evening of alfresco cinema. Complete the evening with a traditional wood fired pizza from Old Dough Pizza Dough Hook Co's beautiful vintage van and prosecco or soft drink from our festival bar!
Wednesday 17th July
Stan and Ollie
Wednesday 24th July
They Shall Not Grow Old
Wednesday 31st July
Moulin Rouge
Finally for a truly classic evening of theatre in the historical amphitheatre we would recommend…
Saturday 20th July
Opera Anywhere: The Mikado
Friday 26th July
Jenny Wren Productions: The Scarlet Pimpernel
To see our full line up of festival events please visit our website: www.bacontheatre.co.uk or head over to our Tuckwell Amphitheatre Facebook page @TuckwellAmphitheatre
Related
0 Comments