Cancel all other plans and make sure you add Sunday 14th July to your calendars folks! Beards, Cheltenham's oldest and largest jewellers, have announced they are launching the Beards Diamond Rush for a fifth year; a luxurious treasure hunt that takes place in our beautiful regency town.
Starting at 10:30am on Sunday 14th July, nine diamonds worth £1000 each will be hidden across Cheltenham and surrounding ar­eas, giving treasure-seekers a race against time to be the first to get their hands on a very special prize.
Expanding further out into Gloucestershire for 2019, the dazzling diamonds worth £10,000 in total have all been kindly donated by Beards to raise funds jointly for Maggie's Cancer Care Centre and the Motor Neurone Disease As­sociation. Each gem is a round brilliant cut diamond and have all been exclusively sourced for the Beards Diamond Rush.
For those of you who have taken part in this event before, you'll be excited to learn that this years' event has an exciting change… The 10th diamond, (the 50th diamond Beards will have hidden over the last 5 years,) will be digitally hidden. This is great news for those who live further afield or who are unable to attend the event in person. Beards have promised that more details on how to take part in the digital diamond hunt will be released nearer to the event.
Alex Rose, the Managing Director of one of the longest-running family businesses in the UK, said –
"We're thrilled to be able to bring back the Beards Diamond Rush for a fifth year and to raise money for two incredible charities. It's always great to watch treasure seekers frantically dart across Cheltenham in a bid to find one of the diamonds, but it's an even greater feeling when we manage to smash our charity fundraising target.
Our chosen charity has always been Maggie's but this year we are also rais­ing money for the MND Association as a local business man, Mark Morris, who owns The Flower Man which has a stand outside our Cheltenham store, has sadly been recently diagnosed with MND and we want to raise money for his charity of choice, the MND Association, which provides support for those affected by MND.
Because of this we want to make this event even bigger and better than before so we can raise as much as possible for these two amazing charities."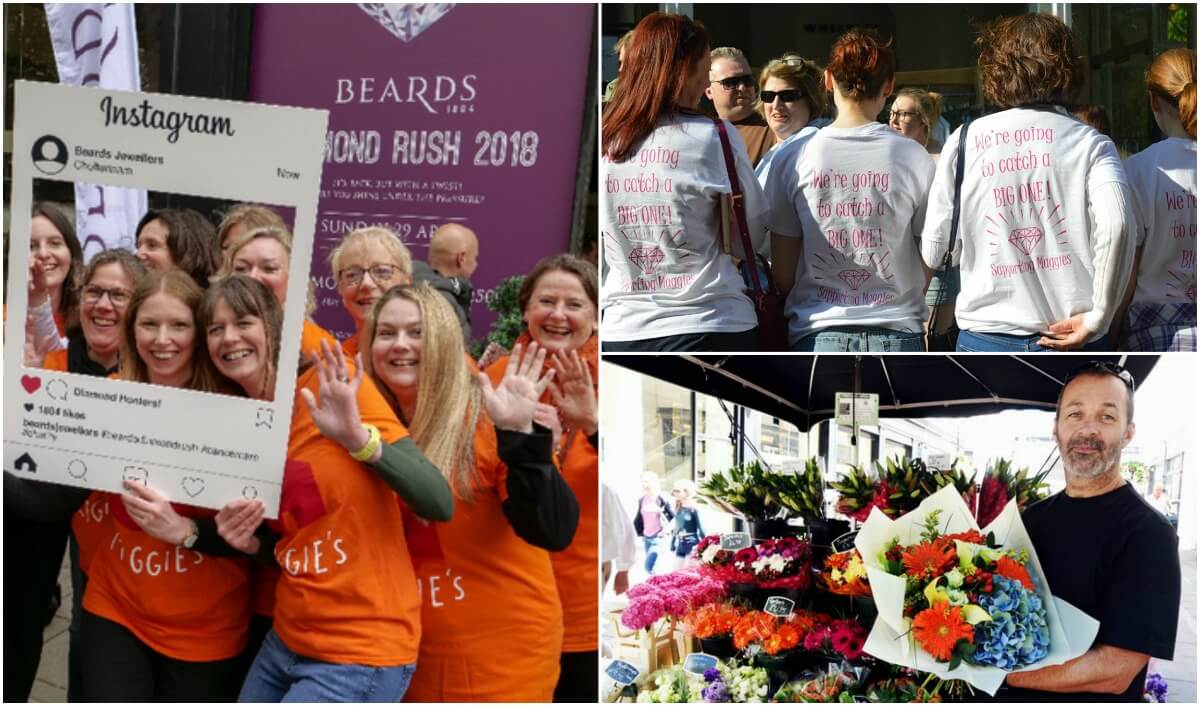 Mark Morris, owner of the popular local flower stand, The Flower Man, said -
"I was diagnosed with motor neurone disease back in February this year, which has been very hard for me and my family because I've been such an active person. I've been selling flowers in Cheltenham for over 30 years and it's just been a bit of a shock not being able to do what you want to do. I just happened to be chatting to Alex from Beards one day about my diagnosis and he suggested why don't we do Diamond Rush for MND Association and Maggie's?
I think MND is something we all feel quite strongly about and not many people know about it and it can affect anybody at any time - like I've proven. I used to be a very fit guy and I've gone to not even being able to walk up the stairs in less than a few months, but I won't let it beat me! I'll keep going and we want to try and support these two great charities so get your maps to help us have a great Diamond Rush for 2019!"
Following unprecedented success in 2018, hundreds of sparkle-seekers are expected to descend on Gloucestershire in July to get their hands on one of the hidden gems. Thousands of pounds were raised in 2018 and this year Beards, along with charities Maggie's and MND Association, are hoping the fundraising total will be the best ever.
Centre fundraiser Anna Mason from Maggie's Cheltenham commented -
"We're always excited to work with Beards and I'm thrilled they have agreed to host the Diamond Rush again this year. The funds we have raised from previous years have been hugely beneficial to Maggie's as it helps us provide care and support to hundreds of local cancer sufferers and their families. The Beards Diamond Rush is always terrific fun and we've got some truly exciting plans for the 2019 hunt... expect some surprises!"
Regional fundraiser Sarah Cummins from Motor Neurone Disease Association also commented -
"We are very excited to be involved in such a wonderful event, especially as we mark our 40th anniversary this year. I am sure that it will help raise a great deal of awareness and vital funding to help support people affected by MND."
The 2018 Beards Diamond Rush saw Cheltenham buzzing with people hunting for diamonds and, over the years there have been multiple proposals made by those taking part, using the diamonds that they were lucky enough to find.
Beards Diamond Rush 2019 - How can you take part?
Treasure maps will be available to purchase one month prior to the event at £10 each on Friday 14th June. The maps will direct people to a general vicinity where they will be able to start searching on Sunday 14th July.
'Clue Makers' dressed in charity-branded t-shirts will also be stationed at strategic points across Chelten­ham and Gloucestershire on the day, offering additional clues to hunters for a £5 donation.
You can follow the event's progress via Beards' social media accounts - on Facebook, Instagram and Twitter @BeardsJewellers. Get involved and share your progress with the hashtag -#BeardsDiamondRush.
For more information, please visit: beards.co.uk/diamond-rush
Where will the money raised go?
100% of the money raised by this event through map and clue sales will go directly to Maggie's Cancer Care and the Motor Neurone Disease Association.
We wish you the very best of luck!
Related
0 Comments