Located on Cheltenham's Promenade, East India Café is one of the iconic restaurants in Cheltenham, specialising in British Raj Café Culture. East India Café serves contemporary and fashionable Anglo Indian Food night after night, mixing together music, food, drink and fun. Once per month they run masterclasses and it seemed rude not to go and experience this for ourselves! We selected the Festival of British India featuring: Celebration of the Raj.
---
As you step into the restaurant you are struck by how beautifully it is furnished and you are immediately welcomed by a smiling waiter Bogdan who took our coats and settled us into armchairs. There were 10 of us taking the masterclass in total; all from different walks of life but all food lovers. We were served a very refreshing iced lime and mint welcome drink at the same time being asked if we had any dietary requirements.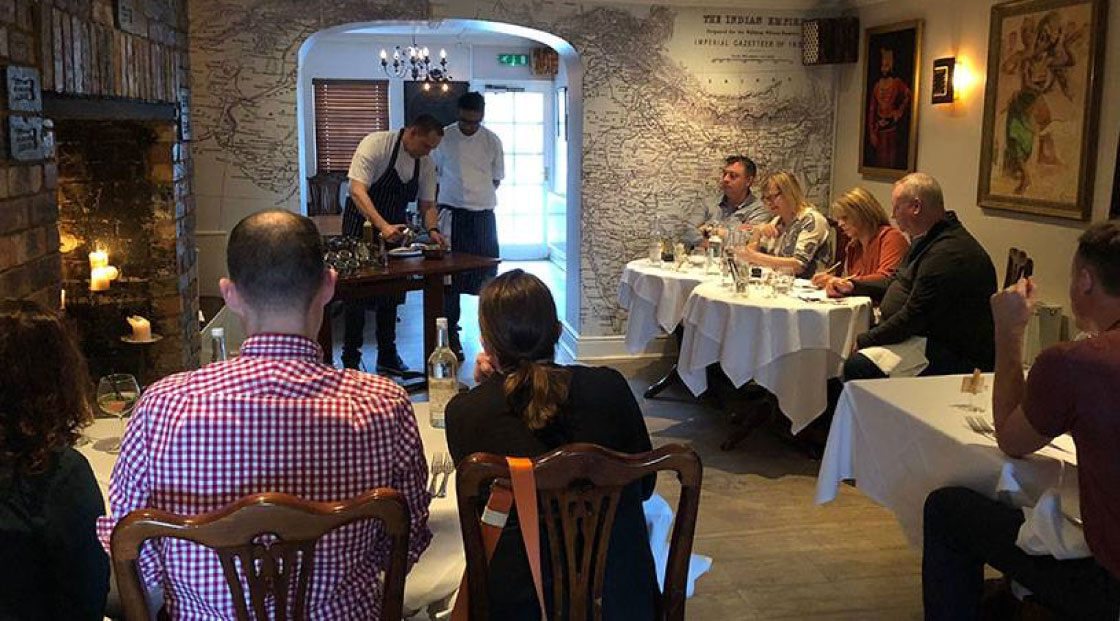 Each masterclass participant gets the personal treatment with named place settings, a clear view of the demonstration area, cutlery, napkins, a pack and pencils, mineral water and most importantly tasting spoons. We started with a review of the day's menu and an introduction about the masterclass, including a brief history of India, The Raj and Indian festivals. Needless to say in a country as big as India there are celebrations for many different festivals, but all share the common themes of food, incredible flavours and family.
It appears that this was exactly the same during the rule of the British with Memsahibs and Khansamas working together to conceive and deliver wonderful food for their own festivals. In the times of the British rule the English women living in India were known as the Memsahibs and the servants, cooks and butlers to the British were known as the Khansamas.
The Masterclass is well-organised with dish by dish creations and the opportunity to ask questions and take notes. We felt like we were learning from true masters! In total, we had five excellent people looking after us; Litu one of the owners, Rasul the group executive chef, Santam the sous chef, Laslo the Chef de Parti and of course Bogdan our waiter. Everyone was so friendly and obviously passionate about what they do.
We started off with an amuse-bouche – the Chefs appetiser - which was beautifully presented in a small dish and packed with flavour. This was followed by the Chef's salad which was fresh, crispy, crunchy and again full of so many flavours. We learned a lot about playing to the five taste points of Bitter, Sweet, Spicy, Sour and Salty and how we should try and combine these into what we are cooking. Then we had our first demonstration. Talk about inspiring!
The Paneer Shashlik with Beetroot Chutney starter was demonstrated from start to finish, with Santam talking us through the marinade; all the ingredients; how each spice will affect the cheese; why Parmesan was added; and then what else we could use the same marinade mix for at home. Once the marinade was prepared Santam carefully explained and demonstrated the cooking process and the way to use fresh red pepper and onion roasted alongside it. We were shown the different chutneys and talked about the different ways to make them and there was a great discussion amongst the group about the chutneys we make in the UK by comparison. Finally, the teaching turned to assembly and presentation before whisking it away for cooking while we instead turned our attention to a phenomenal flavoured starter! Needless to say, we'd already used our tasting spoons at least ten times!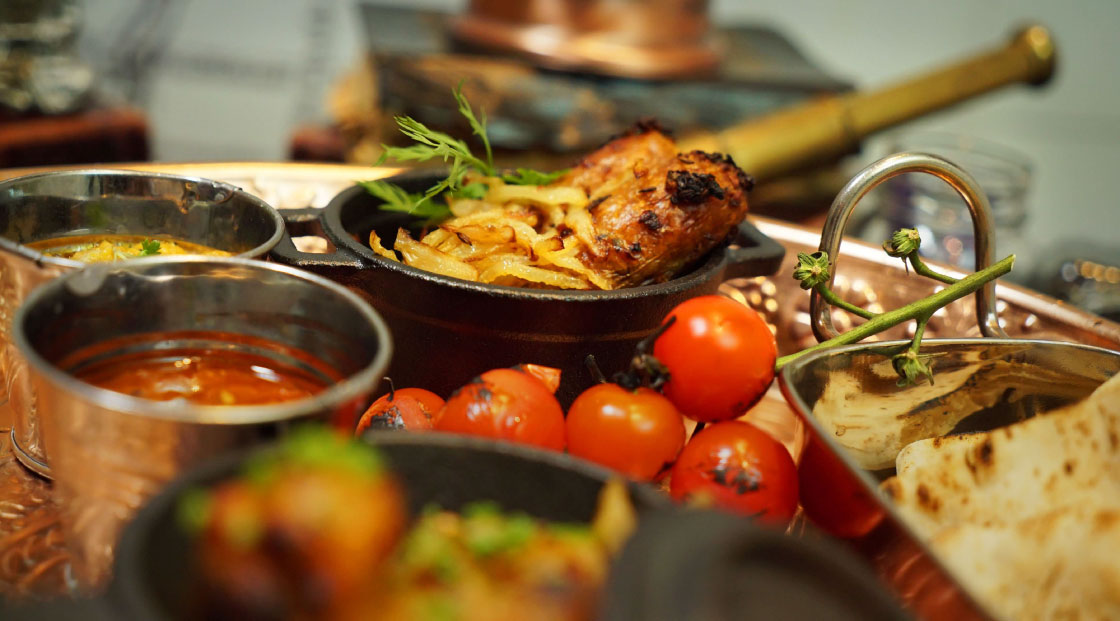 The next course was a Turkey Galouti Kebab and Chef de Parti Laslo taught us how to mix the herbs and spices into the meat and then how give it a smoked flavour by creating your own charcoal infuser in a metal bowl. It probably needs to be seen, but in the middle of the bowl of meat you light the charcoal, and then when it is smoking cover it with foil and leave for a few hours until cold - this gives it a lovely almost BBQ flavour. The team had prepared some of the mixture the night before for us to try and we enthusiastically dug in! Once cool the meat was moulded into small flat patties and shallow fried. The fabulous thing about this masterclasss is the expertise and how they make it relevant. During every demonstration, they talk to you about how to adapt the quantity so that you can use the same recipe for a dinner party or for the family, or for a couple. Group Executive Chef Rasul also extols the virtues of every herb and how to use the to best effect so that you can use the knowledge to upgrade your day-to-day dishes at home too! Who knew that adding black onion seeds to batter could make it so much tastier without noticeably changing the flavour. Oh and I should probably add that the Turkey Galouti Kebab was delicious
Owner Litu demonstrated the next dish - Shahi Lamb Raan – which represents the main course in our masterclass. Litu's catching enthusiasm and obvious love for food shone through. As well as demonstrating the main dish, Litu was also really keen to show us how versatile the different parts of the preparation is which was very inspiring. Starting with the marinade Litu took us through the very slow cook process and showed us what it could be served with. Again I loved understanding how we can adapt the recipe at home and with what, and I also loved the inclusion of instructions for making a basic, quick curry at home ,with what you have in the cupboard. Having run through the first marinade which is left overnight to get the full benefit, Litu then took the basic Masala mix and added the lamb to this, before it was slow cooked for 3 hours. As you can imagine the meat just fell off the bone.
This course was sumptuous - we had the osso bucco cut leg of lamb served one between two with dressed rice, a roti and a delicious crunchy salad. All I could think as it melted in my mouth was 'this is sublime'. We tried hard but I am sad to say we didn't finish it and although I was tempted to ask to take it away, I bottled at the last minute!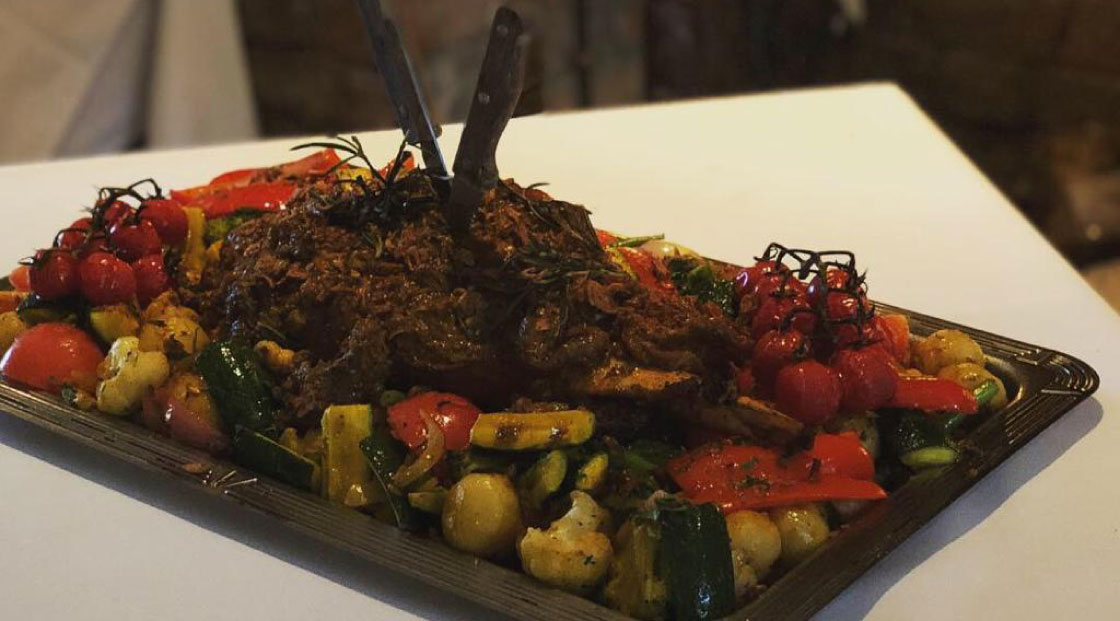 Building on the interactivity of the session and testing our current knowledge, we had a quiz where the team passed around six, spiced dishes and asked us to identify them. I am glad to say the class got them all right. We were taught how to make our own Garam Masala, and Rasul encouraged us to keep a container of roasted Cumin seeds at the ready to sprinkle over finished dishes. Cumin is one of my favourite flavours so needless to say I now have a jar at the ready. As a really helpful guide for maximising the spice rack, Rasul went through what basics we should have in our cupboard, reminding us what different spices do to the foo, as well as shelf-life to ensure they really maximise flavour. I've even been inspired to start using Fenugreek – one of those dusty spices at the back of the cupboard.
As if we could eat any more, finally came dessert - a Chocolate and Gulab Jamun Samosa served with Kulfi Ice Cream – by now I thought I would pop but as the demonstration went on my mouth started watering and once again, I managed to find a space. Beautifully demonstrated, with a raft of suggestions for flavoured fillings that are probably already in everyone's store cupboard.
After we finished dessert Rasul and Litu came and chatted through the day with us, reminded us that we could do all of this at home and then at the very end we were presented with a bag with spices and some tea and some more information. We were also guided through places to shop in Cheltenham and online and for me it was the best Sunday afternoon for a long time. I loved the energy of the team and the passion they have for sharing their knowledge and their love of food. I learned so much and I also really really enjoyed every mouthful.
These masterclasses are a brilliant experience that really put the master in masterclass. They run every month and more information can be found on their website https://eastindiacafe.com/
Related
0 Comments