When I booked to do the Jaguar Land Rover Experience at Eastnor Castle I was excited before I even left the house. I should probably admit that I am a bit of a petrol head and I love driving and cars of all types so it was always destined to be a much-loved activity for me. However that should in no way diminish how incredibly awesome this experience is!
Arriving at Eastnor after a well signposted route, I was greeted at reception by a great team of people and settled with a coffee while they checked my authorisation code from the DVLA. Meanwhile my anticipation was building! Just as I finished my coffee I was introduced to Andy my 'co-driver'. Sitting in the car we ran through the basics of how the car operates (talk about high-spec!) and the fact that some of the things we will be doing are counter intuitive so it's important to trust him and the car. Little did I know how apt and important this statement was!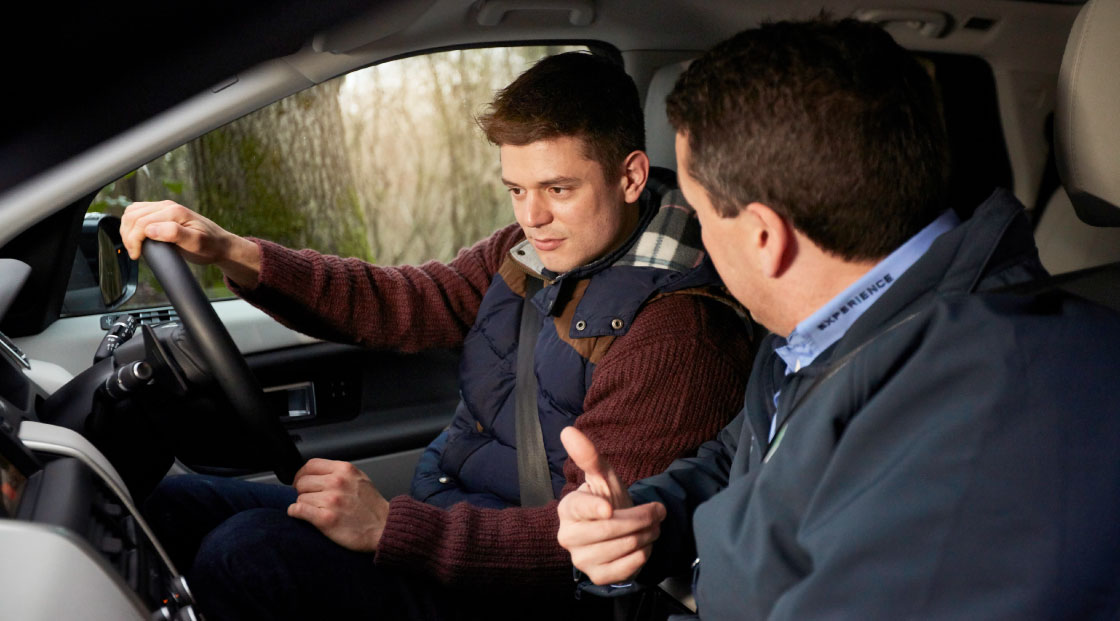 I drive a manual and this is an automatic and it doesn't have a manual handbrake so as well as reaching for the gear stick I was looking for the handbrake. Andy gave a wry smile and then shared the fact that he and the team call it stroking the dog when a person's hand flails around feeling for the gear stick. I tried very hard for the rest of the journey not to, but I definitely reached for the gears more than once!
Exiting the car park went onto the road, you'd be forgiven for expecting a tame experience, but it isn't long before you reach a right turn onto a mud track. Andy was clear I needed to follow the track but stop just before the top of the incline, where he went on to explain the capabilities of the car and just how clever it really is! I was assured we were going to use different off road settings to put the car through its paces but that it is important I do what he tells me.
These cars are simply awesome; the technology and engineering is beyond anything I could think, of let alone specify. Buying this car new for personal use has a hefty price tag, but this was the very real moment when I totally understood why they cost so much, and in fact decided they are actually brilliant value for money, particularly if your work is off-road or remote. I was simply in seventh heaven; driving an awesome machine, putting it through its paces, with a few adrenaline rush moments thrown in for good measure.
We took the car round blind bends, up near-vertical slopes, round the 'bull horn' (about 70 degree sideways angle), into 'the peanut', through a deep ravine of water, up and over hills when you couldn't see the other side over tree roots, on a rolling roads and so much more. Simply put, it was just brilliant! What's incredible is how much this car compensates for our instincts; going along the 70 degree angle, Andy laughed at me kindly as I instinctively leaned towards him, but reminded me that the car can compensate and to sit normally - a very weird sensation!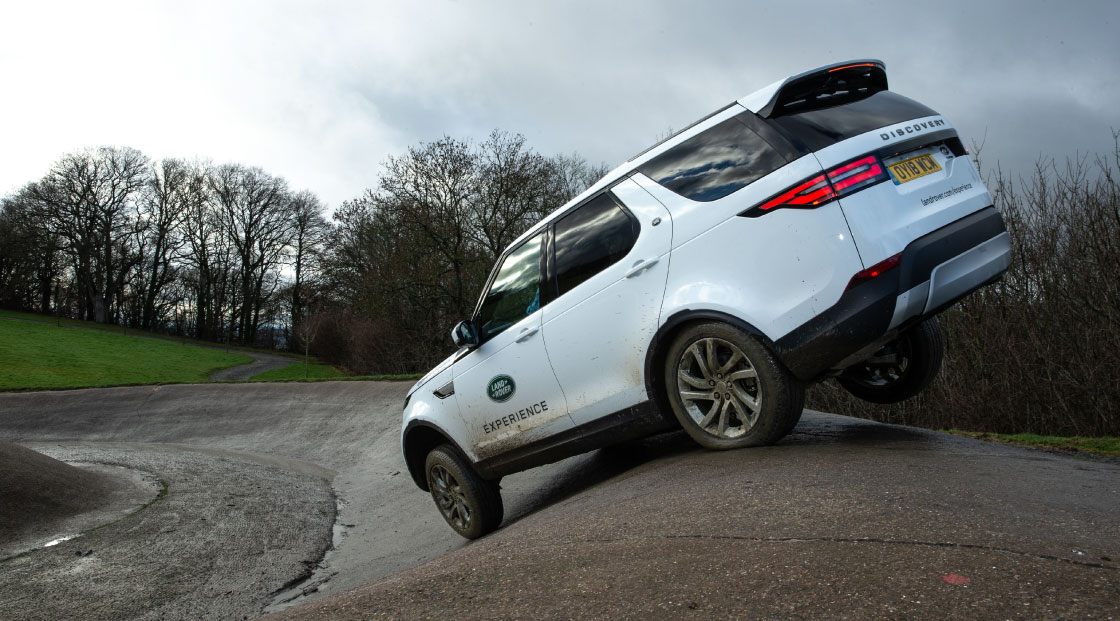 Definitely the biggest challenge for me was when Andy asked me to take my foot off the brake because the car would do it for me. Stop braking?! You must be mad. But then I remembered he'd asked me to trust him and promised he's been round the course hundreds of times before, so I tentatively lifted my foot off the brake pad and silently prayed for a miracle. It turns out a miracle wasn't required; just a full-spec Land Rover that takes control and slowly but surely takes you to safety! Incredible!
What else can I tell you? I had an absolute ball. I want to go back and do longer and more scary things, but I think Andy might decide to do a sickie if I do that. He was a great coach and totally calm about everything and his years as a firefighter have more than prepared him for putting up with this madness. He took this job to do something different and the enjoyment in his voice said it all. He took me through the history of Land Rover and The Eastnor Estate and also the history of the estate itself, to the point that I think I actually want a job like his!
---
The Land Rover Experience at Eastnor Castle is a must! Somehow, someway, you need to find the time to do it! It's about a 45 minute drive from Cheltenham and is a great half day or day trip from the Town. You can also get gift vouchers for an experience like this and I think it would be a fabulous present for anyone who loves driving. The serious side of this is that if you buy a Discovery or Land Rover then the team will take you out and teach you all of the elements, tools and features and how and when to use them. I came away thinking what a shame so many of these amazing vehicles never get to use the majority of their many many clever tools. I of course also came away wanting one but on the drive home realised that with my lifestyle I could not do it justice so I think the answer is a JLRE experience day once per year!
Related
0 Comments