Each year, The Times and The Sunday Times Cheltenham Literature Festival creates a bustling atmosphere fit for budding bibliophiles and ready readers alike. This year's festival, which is happening between 4-15 October 2018 has a stellar line-up, including celebrity guests such as David Attenborough, Gary Barlow, Tom Daley and many more. This year also brings an 'East meets West' theme, which will see the Festival explore modern and historic links along the Silk Road.
Perhaps one of the most impressive and awe-inspiring aspects of the festival is just how much the organiser's put on for free. Each year, more than 80 events are put on without charge, providing book lovers of all ages with hours of entertainment, just for turning up. This year sees the Beano celebrate 80 years in circulation, so of course, there's a Beano challenge across the town centre, along with...
---
Daily Events - Our Top Picks
In the heart of Cheltenham, Montpellier Gardens is transformed into the Literature Festival Village, complete with pop-up tents, a wild wood from The Woodland Trust and even the Heritage bandstand is given a new purpose as the 'bookstand'. It's a central hub where you can soak up the atmosphere and get a feel for the Literature Festival, even if you don't have tickets for anything at all...! You can also grab yourself a free copy of The Times Literary Supplement too.
Beano Challenge Trail
5-14 October
10am-4pm, Montpellier Gardens
A great activity for the kids (and the big kid Beano lovers too). Celebrate 80 years of the Beano by grabbing a trail sheet from the Beano Challenge Trail Tent in the Festival Village.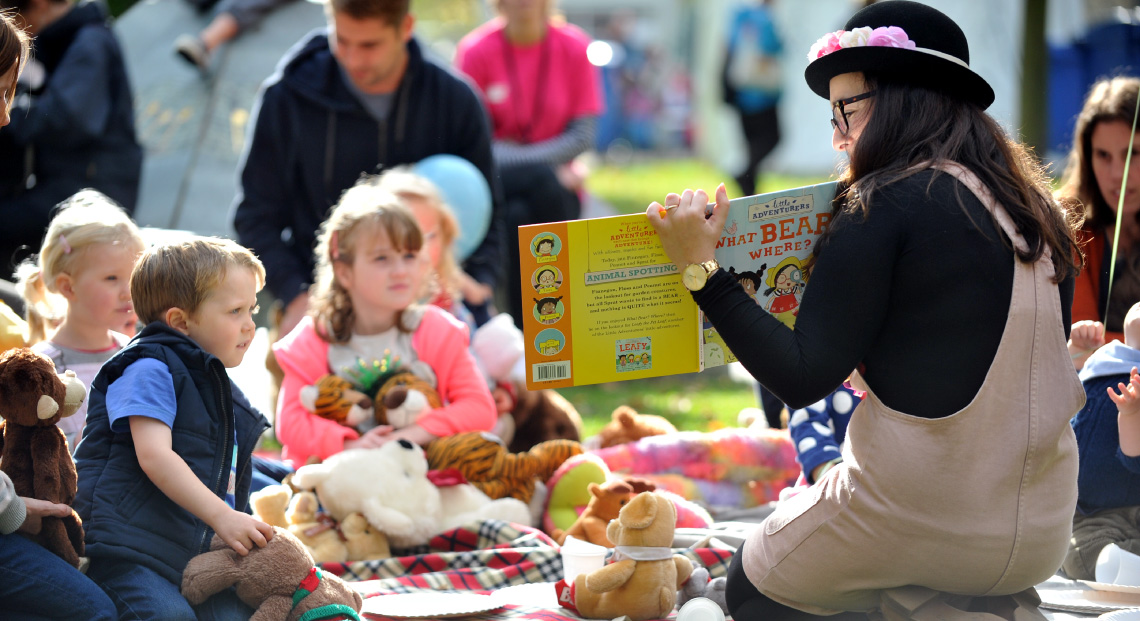 Gardens Gallery Exhibition
5-14 October
10am-8.30pm, Gardens Gallery in Monpellier Gardens
A special exhibition from The Gloucestershire Guild of Craftsmen, there are daily demonstrations of book skills, including bookbinding and calligraphy.
The Bookstand
5-14 October
10am-8.30pm, Montpellier Gardens
Right in the heart of the Festival Village, the beautiful, heritage bandstand is given a new purpose as 'The Bookstand'. Come here to grab a book and read in the outdoor lounge, bring some of your old faves and swap them for your new faves at the bookswap, and get a front-row seat at the pop-up peformances that happen throughout the week!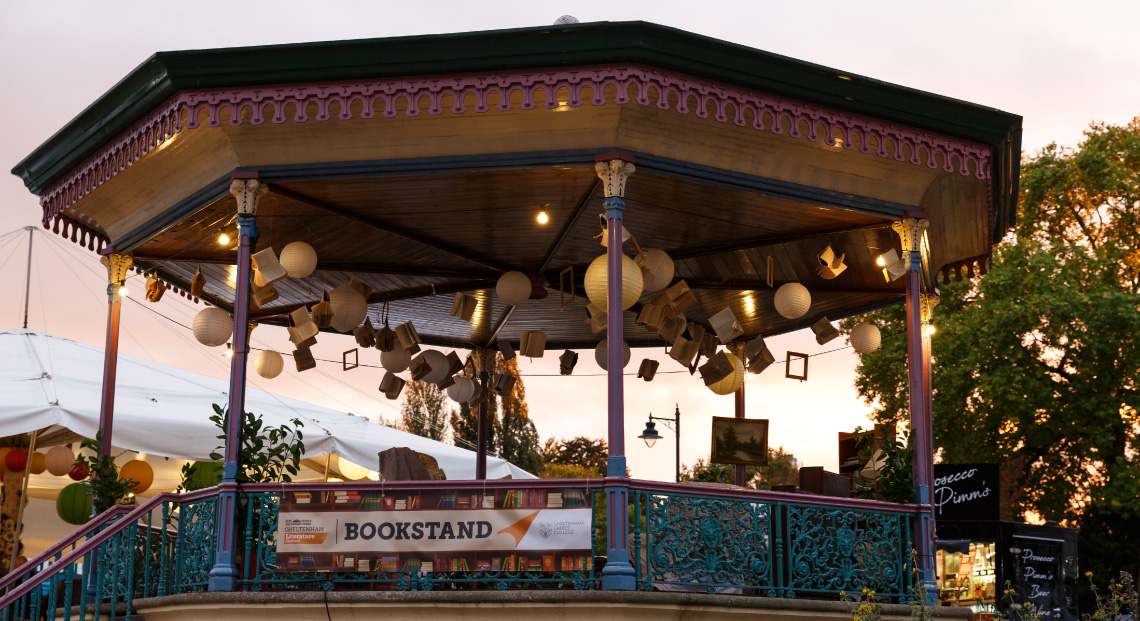 Woodland Trust Wild Wood
In the Festival Village, you'll also find the Woodland Trust's Wild Wood. Home to children's entertainment including games, storytelling, interactive plays and character meet & greets, the kids will be entertained for hours!
All the events in the Festival Village...
---
Other Top Picks from Cheltenham Literature Festival Free Events
The Lit Crawl
Saturday 6th October
5pm to late; various venues
One for the adults, each year The Lit Crawl provides late-night literary fixes, including spoken word performances, readings, comedy acts and parties, all combined of course with the more traditional aspects of a pub crawl. Originating in San Fransisco, pubs, cafes, bars and clubs will burst at the seams with pop-up events and quirky literary happenings. There are no tickets or age restrictions, but please bear in mind that they may contain adult content...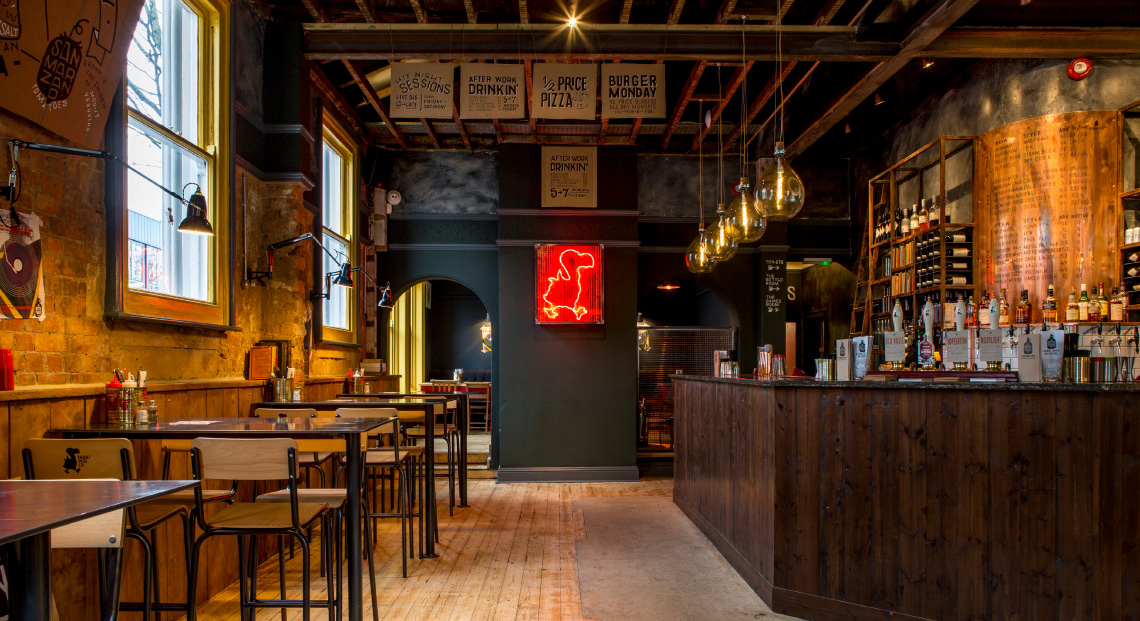 Our top picks from The Lit Crawl include:
5-6pm: Burning Eye Spoken Word Showcase - Join Bridget Hart from Burning Eye Books as she hosts Carys Hannah, Isadora Vibes and Sam Boarer in a powerful showcase of poetry and spoken word. (Waterstones GL50 1LE)
5-6pm: The Unsung - Described as a 'funeral party for all the dead musicians you've never heard of', the Unsung combines poetry, music and theatre and explores the likes of Radiohead's drum technician and Prokofiev's wife. (The Tavern, GL50 3DN)
5-7pm: Haiku and Sake - Calligraphy, haiku writing and a generous shot of sake combine in this celebration of the 'East meets West' theme. Have a go at writing your own too. (Koj, GL50 1HE)
5-7pm: Lives of Colour - Start The Lit Crawl as you mean to go on, with food to fuel your evening. Lives of colour provides a platform for all ethnicities and socio-economic backgrounds to come together and share their story, with spoken word, music and Eat African food. (Aquavitae, GL50 1HE)
From 5pm: Secrets, Lies & Spies - Scenes from a play based on the true story of two women who worked at Bletchley Park. (The Old Courthouse, GL50 1ND)
6pm-7pm: The Vinyl Revival - Join music writer Graham Jones who has spent 32 years touring record shops – including Cheltenham's own legendary Badlands - for an hour of tales and anecdotes from behind the stacks. (Badlands, GL50 3LA)
7.15pm-8.15pm: Prizes and Prejudice - Can you tell your Austen heroines apart? Do you know what went down in Wonderland? How many Little Women can you name? Test your knowledge of the classics in an irreverent but affectionate quiz for book lovers. (Boston Tea Party, GL50 3JS)
10pm - late: After Party - Electrifying, adrenaline-fuelled performance with acapella beatbox, hip-hop group 5 Mics; followed by Bostin Brass Brand and DJ Echo Juliet. (Bottle of Sauce, GL50 3LH)
See all the Lit Crawl Events...
Festival Club
5, 6, 12 & 13 October
10pm-1am, Hotel du Vin
A riotous and extrovert evening of late night music and revelry. No more needs to be said about this one! Full event details...
---
So there you have it, just enough to whet your appetite for the Cheltenham Literature Festival free events. The ...around town programme is supported by Cheltenham BID, along with Visit Cheltenham, Arts Council England, University of Gloucestershire and Bottle of Sauce. You can see all about the Cheltenham Literature Festival here...
Related
0 Comments