Every man and his dog knows David Attenborough is coming to Cheltenham for the Literature Festival this year, but he's not the only must-see event. From Prue Leith to Sebastain Faulks, Eric Idle to Roger Daltrey, you'd be forgiven for not spotting their names on the huge roster of this year's Lit Fest, but you won't be forgiven for missing out on tickets now you know! To help, we've created a shortlist of the not-to-be-missed events which still have tickets... if you are quick!
Stars of Stage, Screen & Sport
Eric Idle
Yes, the Eric Idle of Monty Python fame will reflect on his life and career with the help of comedian Marcus Brigstocke. Eric is one of the UKs original funny men and is a natural comedian so you're in for some laughs!
Roger Daltrey
When you've founded one of the most influential rock bands of the 20th century, its safe to say you've had a pretty remarkable and interesting life! Catch up with Roger Daltrey, founder of lead singer of The Who as he talks his new memoir Thanks a Lot, Mr Kibblewhite: My Story, with Matt Rudd.
Michael Parkinson
In conversation with his son Mike Parkison, accompanied by clips from the Parkinson Archive, this chat show legend looks back on his unique and lasting friendship with footballer George Best.
Image credit: Parkinson Productions
Prue Leith
Most recently famous for her role in the Channel 4 version of the Great British Bake Off, and previously The Great British Menu, Prue Leith has built an enviable reputation as a culinary craftsman, broadcaster and critic. She'll be talking candidly about her first cookbook in 25 years.
Kevin Keegan
Arguably the first English footballer to become a media superstar, famed for his style on the pitch and passion for the game, Kevin Keegan shares his remarkable journey from miner's son to being crowned 'King Kev' by his adoring fans. Chaired by chief football writer of The Times Henry Winter.
Image credit: Paul Marc Mitchell
Richard Herring
Ever experience that awkward moment when tumbleweed rolls through a conversation and there's an unending silence? Comedian, writer and podcaster Richard Herring is on hand to share his secrets of successful chatting, with strategies and emergency questions to turn those awkward silences into awkward conversations!
Literary Greats
Jacqueline Wilson
Having authored more than 100 books and secured a place as Children's Laureate, Jacquiline Wilson is many a favourite childhood author for children past and present. She's talking all about her writing career to CBBC present Katie Thistleton as well as trailing her much-anticipated new book My Mum, Tracy Beaker.
Sebastian Faulks
As well as being a guest curator and expert for the Cheltenham Literature Festival 2018, Sebastian Faulks is of course also a bestselling author, with novels including Birdsong and Where my heart used to beat. At this year's festival, he'll be talking Paris Echo, his enthralling new novel set in early 21st century France.
Image credit: Sebastian Faulks
Lionel Shriver
Ever considered what the things we own mean? Well Lionel Shriver, author of We need to talk about Kevin, discusses her first collection of short fiction, Property.
Image: Sarah Lee
Bernard Cornwell
The master storyteller Bernard Cornwell returns in conversation with Julia Wheeler to discuss how England was made, and talk about his new book War of the Wolf. It's the eleventh book in The Last Kingdom series, which is now a major TV serialisation on Netflix.
Image: Felix Clay
Current Affairs
NHS: 70 Year Health Check
As the NHS celebrates it's 70th birthday, this talk takes a look at how it has changed. In 1947, the NHS had 35,000 beds for TB patients; today it has 35,000 beds for dementia patients.
Corbyn's Labour: Poised for Power?
Idolised by some, demonised by others, Jeremy Corbyn has ripped up the rule book since becoming leader of the opposition. Experts explore why Corbyn's Labour has captured the imagination of so many, consider whether his policies present a viable alternative for Britain and discuss the challenges that must be overcome if Corbyn is to successfully bring this radical new Labour into government.
Image: Chatham House, London
The Conservatives: Beyond Brexit
Post-Brexit, what will the Conservative Party seek to offer voters? The Times Columnist Daniel Finkelstein joins Isabel Hardman (Why We Get the Wrong Politicians) to discuss the different ideas that should drive party policy post March 2019.
Global China
From the poverty and isolation of the Mao era, China has grown with astonishing rapidity to become the second largest economy in the world. Under President Xi China seeks to become a global leader and a new superpower. How will China exercise its influence?
Image credit: Base64
Helena Kennedy
The eminent barrister takes a deeply shocking look at the British justice system, examining pressing new evidence that women are still being discriminated against. From the High Court to female prisons, she argues that change for women must start at the heart of what makes society just.
Rachel Treweek
In the centenary of the Representation of the People Act 1918 and the great struggle for change that preceded it, the first female diocesan bishop reflects on her own story, and on the divisions which exist between people in this country. How can we live out who we truly are, for good, and embrace the difference around us?
Classic Literature
Agatha Christie: Queen Of Crime
The world's best-selling novelist, outsold only by Shakespeare and the Bible, still holds us enthralled after more than a century. Sophie Hannah, who has resurrected Hercule Poirot in her continuation novels (The Mystery of Three Quarters), BAFTA nominated screenwriter Sarah Phelps, whose superb BBCTV adaptations reinvent 'cosy Christie', and New Zealand poet and Christie super fan Hera Lindsay Bird explore her extraordinary contribution, enduring appeal and continuing relevance.
Heathcliff vs Darcy: Who's the Bigger Sh*t?
Is Heathcliff a tragic victim of overwhelming passion or a vicious sociopath? Is Darcy a cold, controlling snob or an honourable, intelligent hero who recognises his equal in Elizabeth? Festival Curator Sebastian Faulks is joined by novelists Philip Hensher and Sarah Moss, and Sunday Times dating columnist Dolly Alderton to go head to head in a literary tussle over the real nature of two of the canon's most notable romantic heroes. Sparks will fly.
Arts & Culture
What Critics Would Pay To See
Was Hamilton the best musical of the year? And what about the best film? Hear from The Times reviewing team Ann Treneman (Theatre) Kevin Maher(Film) and Hugo Rifkind (TV) as they look back over a year in the arts. They call out the turkeys and celebrate the triumphs and look forward to the highlights of 2019, sharing stories from behind the scenes. In conversation with The Times Arts Editor Alex O'Connell.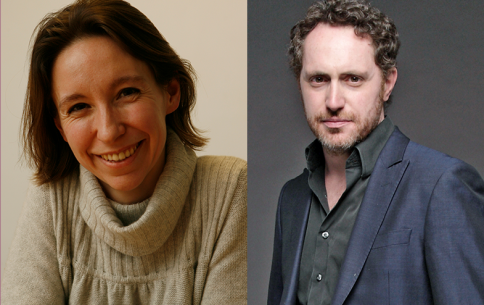 Image credits: Alex O'Connell, Hugo Rifkind
Oscar Wilde: The First Celebrity
Known for his biting wit and flamboyant style, Oscar Wilde rose to become one of the most iconic figures of the fin de siècle. His genius for self-promotion arguably made him the inventor – and ultimately a victim – of celebrity culture. Biographers Matthew Sturgis (Oscar) and Michèle Mendelssohn (Making Oscar Wilde) explore the playwright's meteoric rise and catastrophic fall from grace with publisher and philanthropist William Sieghart.
Frida Kahlo
Artist. Activist. Feminist. Icon. Frida Kahlo's powerful self-portraits, interwoven with the myth and vibrancy of Mexico, are some of the most celebrated of the 20th century. Kahlo's personal story and unique sense of style have endured as much as her paintings, leading her to become a global cultural phenomenon. Claire Wilcox, co-curator of the V&A's acclaimed exhibition Frida Kahlo: Making Her Self Up, cultural critic and writer Marina Warner and columnist and author Rhiannon Lucy Cosslett explore her life, work and legacy with Rosie Goldsmith.
Mary Shelley: A life of men and monsters
On the 200th anniversary of Frankenstein, biographers Fiona Sampson (In Search of Mary Shelley) and Miranda Seymour (Mary Shelley) bring to life a woman whose dark and brilliant imagination created a myth still haunting us today. Her experience of motherhood and the influence of her absent mother, radical feminist Mary Wollstonecraft, shaped her life and work. In her tragic story of flawed relationships and overlooked struggle, all too relevant for our #MeToo era, we discover a Mary Shelley for our times. Chaired by Nicolette Jones.
East Asian Treasures from the V&A
From ceramics to armour, intricate textiles to delicate mother-of-pearl boxes, the V&A's East Asian collection covers several thousand years of Chinese, Japanese and Korean art and design. Gregory Irvine, senior curator of Japanese metalwork, and Julia Hutt, curator of lacquerware and ivory carvings, provide an expert insight into some of the exquisite objects housed at the museum, selecting their must-see pieces and exploring their place within the wider collection with Chairman of the V&A Nicholas Coleridge.
Image Credits: Gregory Irvine (Image: V&A), Julia Hutt, Nicholas Coleridge (Image: Mike Trow)
Marcus Brigstocke: Devil May Care
Snowflake, Remoaner, Libtard, Brextremist, Feminazi, Piers Morgan… It's time to establish what is good and what is bad. Who better to arbitrate in these divisive times than Lucifer himself? The Devil is retired now and plays golf at Mar-a-Lago, but he's still on the board of The Underworld, advising on how to make eternal damnation sustainably hot, how to keep a thousand minions on zero hours contracts and what to do about Jacob Rees-Mogg.
Life Is Tough But So Are We...
The anti-Brexit campaigner Gina Miller (Rise) has endured racist and sexist abuse as well as physical threats. Yet she continues to live according to her conviction that we must stand tall and lead the way if we truly believe in something. Editor-in-chief at Cosmopolitan Farrah Storr (The Discomfort Zone) has proved that nothing in life is an insurmountable challenge and offers clear and inspiring advice about overcoming fear and realising our potential. These two remarkable women join Alex Clark in conversation.
Image Credits: Farrah Storr, Gina Miller (Image: Emma Freeman)
Is A Degree Worth Debt?
Many argue that universities play a crucial role in the modern world, yet students are facing the responsibility of huge debts and securing graduate-level employment can prove challenging. In 2018, is the university system sustainable and does it present fair opportunities for all? David Willetts (A University Education), Tara Westover (Educated), Otegha Uwagba (Little Black Book) and Andrew Adonis (Saving Britain) consider whether a degree offers good value to students or if it's time we boosted other routes into employment for young people. Chaired by Dharshini David.
Anthony Sher: The Lear...
The acclaimed actor discusses Year of the Mad King: The Lear Diaries, his account of researching, rehearsing and performing what is arguably Shakespeare's most challenging role, known as the 'Everest' of acting, with leading Shakespeare scholar Jonathan Bate.
The Legacy Of Empire
Nearly 70 years after the sun set on it, the legacy of the British Empire is still highly controversial. Did it spread democracy and the rule of law around the world? Or did it exploit and enslave millions of indigenous people? The historian and broadcaster Ben Macintyre joins Professor of Postcolonial Studies at the University of Sussex, Gurminder K. Bhambra, the writer, businessman and former head of the Equality and Human Rights Commission, Trevor Phillips and Nigel Biggar, director of the Ethics and Empire project at Oxford University, to debate the real meaning of the British Empire and how it should be taught to a new generation.
Sarah Dunant: The Borgias
They were history's most notorious family, but were the Borgias really so bad? Sarah Dunant (Blood and Beauty, In the Name of the Family) reveals all in this stunning illustrated lecture drawn from her sparkling Renaissance novels.
How To Ride A Bike
Six-time Olympic gold medallist Chris Hoy recalls his astonishing track career and what drove him to succeed, and shares advice on how to achieve your best performance with broadcaster Jill Douglas.
Related
0 Comments