On the gorgeously appointed side street that is Well Walk, shops nestle side by side to create an antique, bygone era feel to this historic walkway. In one of these establishments, newly opened Malone's Vintage creates a haven of always in-style items alongside quirky vintage curiosities. We couldn't wait to get inside this chocolate box of a shop to inerview owner Missy Malone...
---
Tell us about yourself. Have you always been in retail, or is this a new venture?
I have been a full time professional performer since I graduated from Uni in 2007, so this business venture is a whole new world for me to tell the truth! Long story short, I was a born performer and have been lucky enough to work professionally in the entertainment industry (as an Actress, Dancer and Model) for over a decade and still continue to do so, but felt I needed to put down some roots and build something a bit more reliable for my future. I am a Vintage fanatic and have collected and adored Vintage since I was a young teen so I have always been drawn to the Fashion and Vintage world. I graduated Edinburgh Uni with a BA Hons degree in Costume Design and along with that came away with a wealth of knowledge about dating, sourcing, and restoring Period clothing. The dream of a Vintage shop has been brewing for around ten years in truth.
Five years ago I started selling online and doing Vintage Fairs with the help of my husband. We then graduated on to hiring shop fronts for "Pop Up" shops for the last four years and that gave us a good understanding of what was required, what people wanted and what was possible before making the huge decision of opening a permanent shop.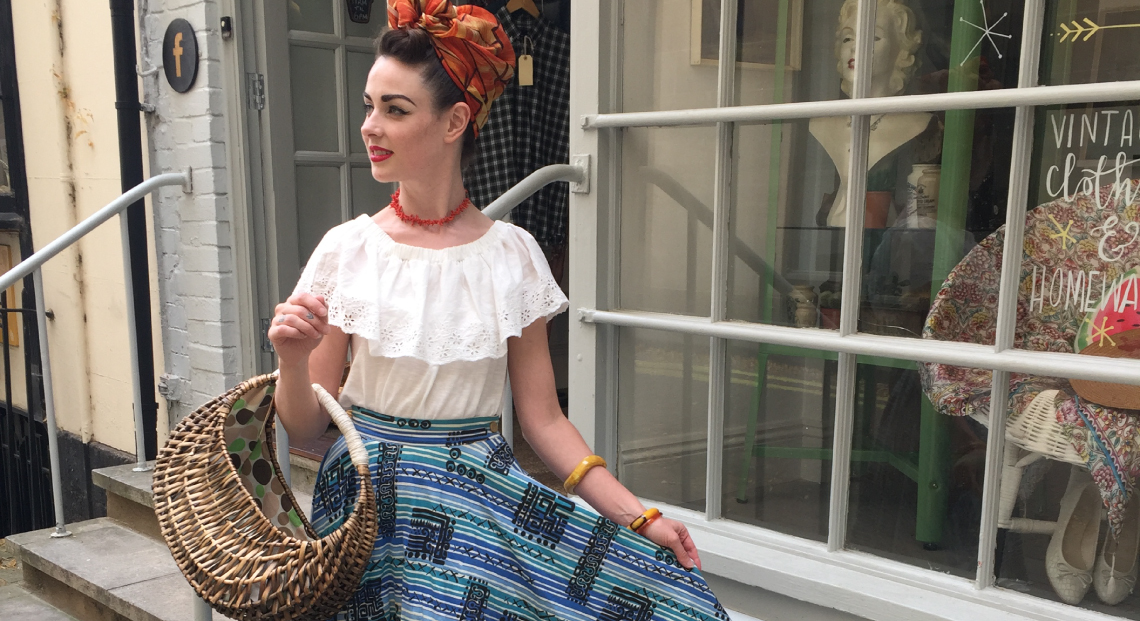 Why Cheltenham, and why this street?
We actually feel hugely honoured to be able to have a shop in this location. The first thing that drew me to the shop was its beautiful shop front, unusual layout and character and also the fact is is one of the oldest streets in Cheltenham, with our shop itself dating from 1776!! We feel perfectly located between Quirky Old Worldy "Well Walk Tea Rooms", Super cool and Modern "Boston Tea Party" and Chic and high end "White Spoon", seemingly appealing to the same kind of customers so we all work in harmony. The surrounding streets are also vibrant and buzzing with visitors and locals alike and I love being close to cultural sites like Cheltenham Minster (St Mary's) and The Wilson. Not to mention we are only a stone's throw from The Promenade and the High Street!
How has your first month of trading been? What have you loved about it?
We are delighted with how our first month has gone. We really could not have asked for a better reception! We have had such a lovely warm response and are already building a regular returning customer base! I have enjoyed meeting locals and visitors and showing them around our shop.
What's the shop 'about'? What are you trying to achieve, who shops there, what might we find tucked away?
We wanted the shop to be a destination shop. A place that you plan to go to. Always changing, with different things to see each time you visit. I wanted to create a Boutique vibe, luxurious yet playful and quirky. Our stock whether it be Clothing or Furniture (we have a floor for each!) is centered around quality, well made, beautiful items distinctly of their time. We specialise in Mid-century items (1950's-60's), iconic style and pre-loved/vintage designer pieces. We love the idea of sustainable fashion and hope to buck the trend of throwaway clothing and furniture by encouraging people to give pieces a second life! Our customers vary hugely to be honest, from students to people who bought Ercol furniture when they got married in the 1950's and want to add to their existing collection! Really all our customers have in common is good taste!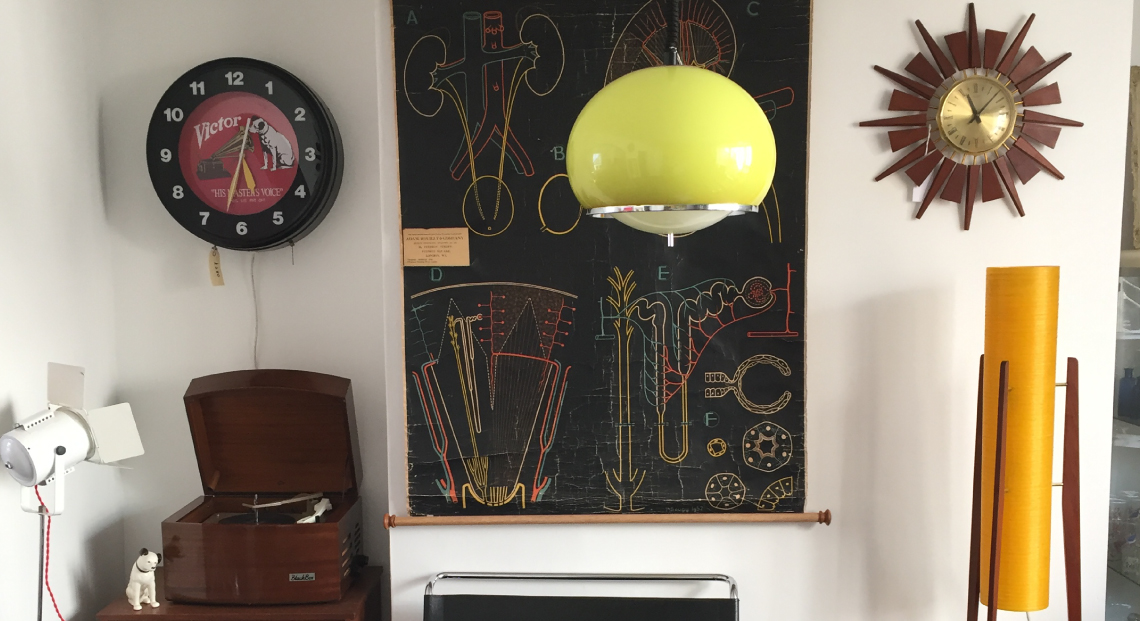 Do you have to be quirky / alternative to go vintage, or can you grab on-trend looks with a bit of history attached?
Not at all! Vintage fashion and interiors is all about how you style it! Mix is with high street fashion, add an iconic 60's piece to a modern minimal home or go full blown authentic styling in head to toe 1940's for Goodwood Festival of Speed - we have you covered! It is fun to own a piece that is a true one off, that you can be sure no-one else will have!
What do you think is the best item in your shop at the moment and why?
Oh that is a difficult one! I think it is between the 1960's Fiberglass "Rocket" Lamp or the Two Tretchikoff Green Lady Original Framed Prints. They are so iconic, stylish and distinctly of their time.
What might people be surprised to learn about Malone's?
I am from Edinburgh and moved to Cheltenham ten years ago. I run the shop with my husband Dave (born and bred Cheltonian) and with the help and support of my parents who help source pieces for us up in Scotland.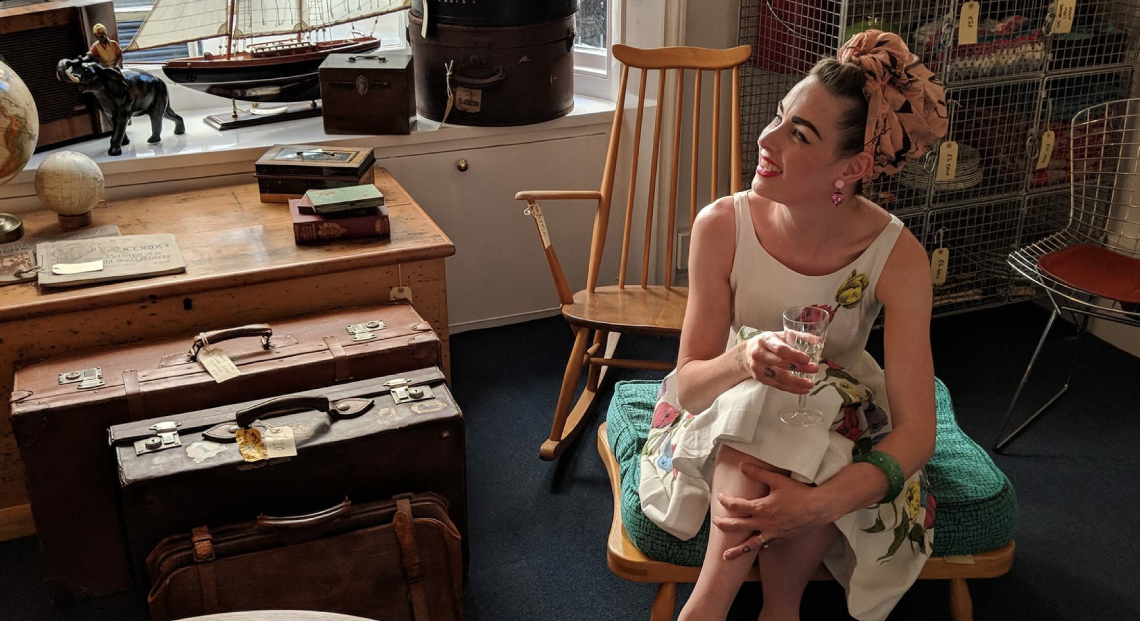 As you're a Cheltenham 'newbie' and your husband is a born-and-bred Cheltonian, we want to hear about your Cheltenham! Which shops are on your must-visit list? Where do you go to grab bargains or find fashionable finds?
I love when the Promenade Market is on with local Crafts and Food on offer. I enjoy rummaging the Antique Shops and Charity shops around Bath Road too.
What are your top five places to go / things to do / things to see in Cheltenham and why?
My top five places in Cheltenham are: For lunch - O'Haras; for dinner - White Spoon; for culture - The Wilson; for beauty - Leckhampton Hill; for relaxation - Chapel Spa
What else do you love about Cheltenham?
As a non driver (I cycle everywhere) I love the cycle paths and the fact it is not a huge city so I can get around easily. It is also very pretty!
---
You can find Malone's Vintage on Well Walk, GL50 3JX.
Related
0 Comments