The Cheltenham Paint Festival brings together a collective of international artists to create large-scale, public art pieces throughout Cheltenham. With a mixture of permanent and temporary pieces, the aim for the two-day event is to offer something new and creative within the town and provide engaging, thought-provoking paintings and pieces that add value to our landscapes.
In July, we introduced you to just some of the artists coming to the town. These are internationally renowned street artists, who have massive followings in their own right, and who we are priveleged to welcome to the Town. Now, we're delighted to reveal the spaces which will be getting a creative facelift on Saturday 8th & Sunday 9th September...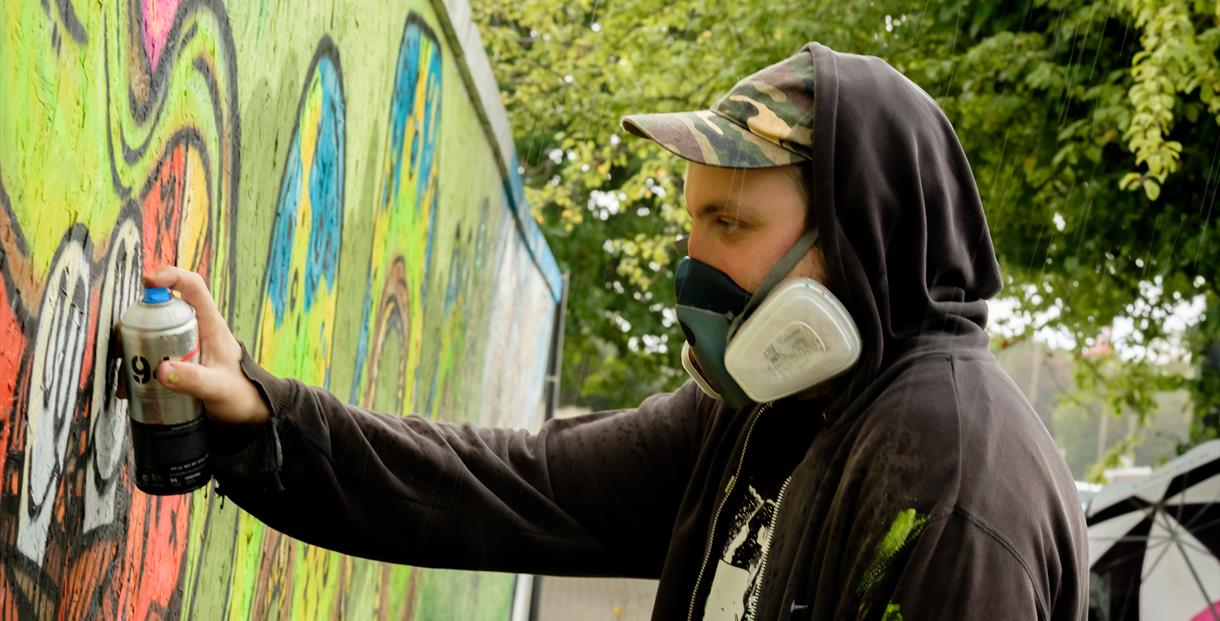 The Brewery
Henrietta Street, Cheltenham, GL50 4FA
Last year a bare, decorative arch was transformed with the now infamous Chameleon piece and this year, the two arches either side will be painted by to of the headline artists. These pieces are over fifteen foot high to give you an idea of scale...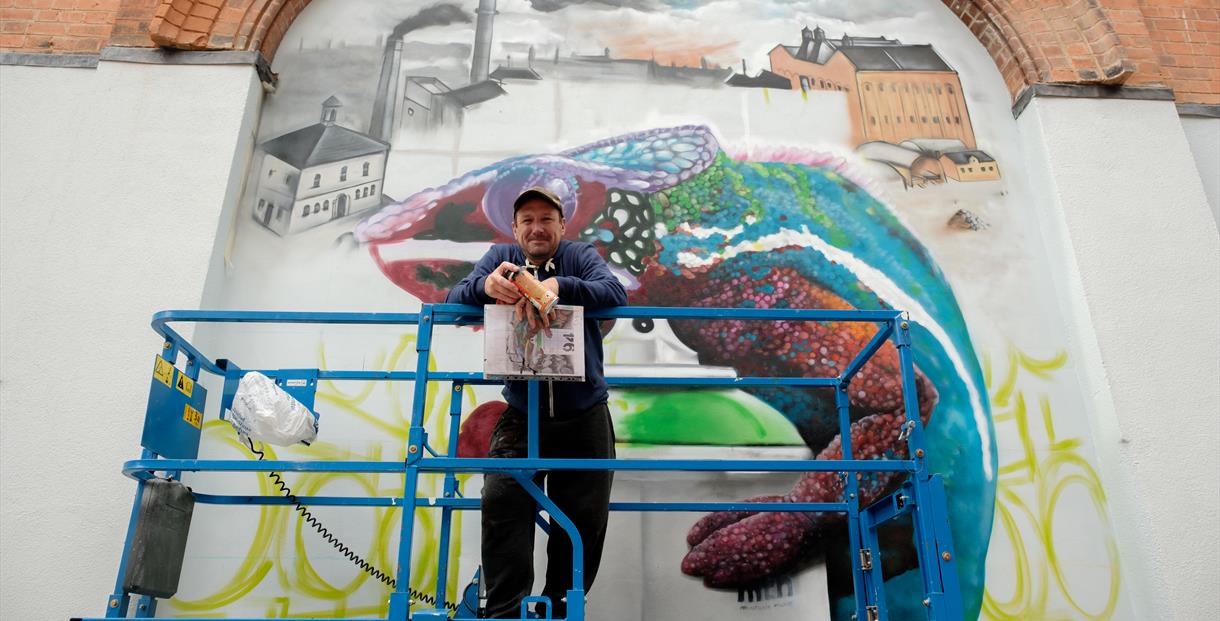 Lower High Street Car Park
Work funded by Cheltenham BID will begin this week at the wall behind Woodys fruit and veg stall. The entrance to the car park will be shut off all week for Portsmouth artist Samer to work his magic. Fresh from painting a piece at the internationally reknowned Waterford Walls project, Samers work is expected to be one of the highlights of the festival. The car park will also feature one of last year's stars, My Dog Sighs, painting his well known Everyman Hugs, the design adorning one of this year's festival tees on sale through the festivals website.
University of Gloucestershire: Hardwicke Campus
Cheltenham GL50 4BS
Home to last year's bright and vibrant eye, The University's Hardwicke Campus will become home to a number of additional pieces this year, as well as being the hub for children's art workshops.
The Bayshill (New 2018 location)
85 St George's Place, Cheltenham GL50 3PP
Running alongside The Bayshill Inn is a long wall next to the car park. There will be two installations happening here - a must-see painted masterpiece on the wall, and a ceramic installation next to the parking meter. We've been told by the organisers that if you don't have time to visit them all, this is the one to prioritise. The piece will be done by lead artist Beau Stanton.
Williams Cycles (New 2018 location)
82-86 Albion St, Cheltenham GL52 2SE
Just a minute or two's walk from the town centre, you'll find Williams Cycles. The Cheltenham Paint Festival artists will transform a wall at the shop and will be a space used to showcase the festival's lead artists' work.
North Place Car Park
Cheltenham GL50 4JL
The biggest canvas for Cheltenham Paint Festival, North Place Car Park offers a brilliant space to see multiple artists and styles at the same time. It already features the recently completed artwork commemorating Gustav Holst's work in WW1. Read all about it here...
Honeybourne Line
Cheltenham GL50 2PX
The Honeybourne Line is a disused railway line stretching from Cheltenham Spa Railway Station all the way into the town centre. It is now converted to a footpath and cycle way, and is The Sustrans Honeybourne Line (NCN Route 41) official cycle path too. The route has a lot of wall space and Cheltenham Paint Festival has permission to paint the two tunnels and four bridges. The tunnels in particular are a great 'all-weather' painting spot for the artists and spectators alike.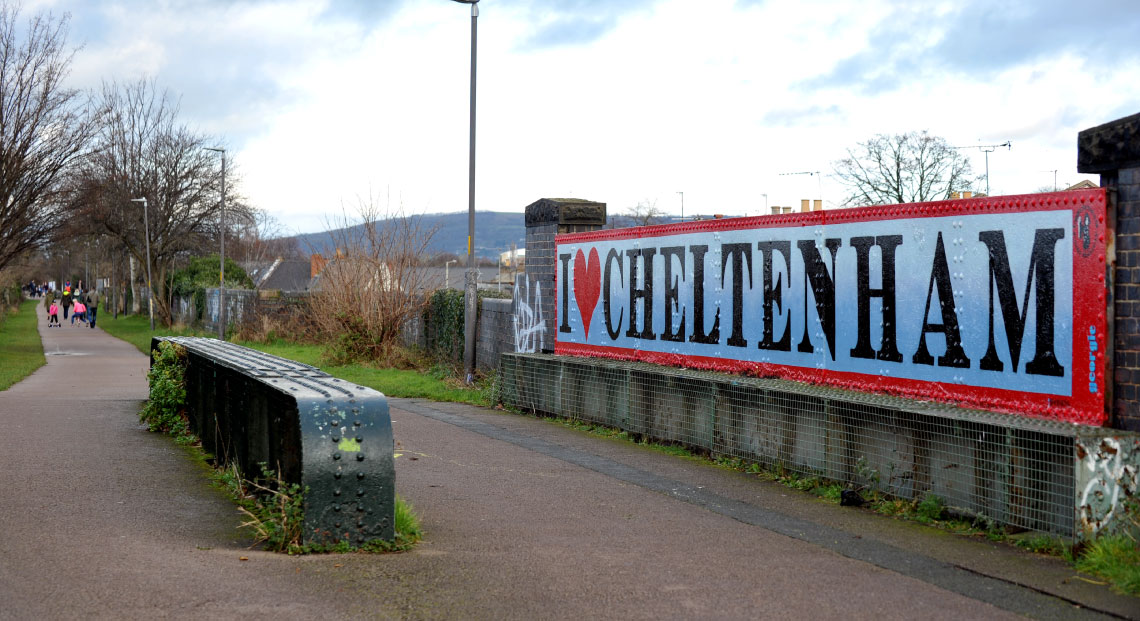 Frog & Fiddle & Two Pigs
Frog & Fiddle: 313-315 High Street, Cheltenham, Gloucestershire GL50 3HW
Two pigs: Church St, Cheltenham GL50 3HA
Both of these pubs are home to artwork from the 2017 festival, and will have new pieces added this year. They are some of this year's all-weather spots and you can grab a bite to eat or a drink in these locals as you watch the artists work. Both are close to The Brewery Quarter, so you can move between artworks easily. If you want to see more pieces from 2017, don't forget to pop to The Bottle of Sauce too which is just around the corner! Bottle of Sauce: Ambrose St, Cheltenham GL50 3LH.
Pittville Park Skate Park
Cheltenham GL52 2AN
The Skate Park will be getting new artworks from the artists this year and round the corner at Aggs Garden Pavilion you'll be able to see 2017 artwork too.
Cleeveland Street (New 2018 location)
Cheltenham GL51 9HN
Two homeowners on Cleeveland Street will see their homes transformed with a large scale mural after offering their properties to the Festival. We have been told that if you like the mural that was added to William Hill in 2017, then you'll love these pieces.
Tour some of last year's artwork, as well as a couple of pieces completed this year at:
The Coconut Tree, 59 St Paul's Rd, Cheltenham GL50 4JA
William Hill, (opposite The Range), 96 Tewkesbury Rd, Cheltenham GL51 9DB
Dream Seams, 352 High St, Cheltenham GL50 3JE
Related
0 Comments