Spectacular floodlights on landmark town buildings have delighted locals and visitors alike and will continue to do so throughout the half-term holiday.
Spark! played at The Brewery Quarter, the Promenade and the Quadrangle on Saturday evening.
And they had a wonderful reception as they paraded through the town between performances. One impromptu performance saw all five members of Spark! head into Greggs on the High Street to applause from shoppers and staff alike.
As the drummers played, the new floodlights came on for the first time at the Municipal Offices, the Queens Hotel, Boots, the Brewery Quarter and the Town Hall.
Another highlight will be on Wednesday when the main buildings turn red for Valentine's Day.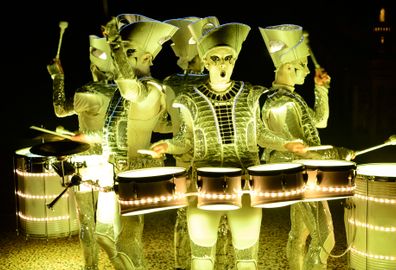 Many other buildings that are lit throughout the year are also involved and will be following the same two-colour theme as Light Up Cheltenham continues until Sunday.
Martin & Co, The Bank House, HSBC, United Services Club, Moo and Fever nightclubs and three buildings in the Promenade, 131, Knight Frank and Cotswold Transport Planning are all lit in either magenta or cyan.
Businesses across the town centre are also running special offers to celebrate Light Up Cheltenham. They include Park Gallery, Molton Brown, Cosy Club, Revival Café, Brasserie Blanc, House of Fraser, Malmaison, The White Spoon, Carluccio's, Prithvi and Bill's
BID Director Kevan Blackadder said: "It's the first time Spark – who have played all over the world – have performed in Gloucestershire and we were delighted by the response from everyone who came out see them.
"What has been equally positive is the reaction of people to the buildings. Everyone seems to be stopping to get a picture of their favourite building and we're expecting an even bigger response on Valentine's Day."
Related
0 Comments