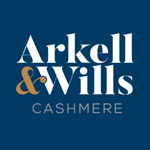 Arkell & Wills is a ladies cashmere brand based here in Cheltenham. The brand was founded by Debz Critchley (nee Arkell) and Nicky Wills in October 2016. All the pieces are designed by Arkell & Wills themselves and produced in Nepal, India and Italy, including both cashmere and cashmere mix sweaters, poncho's, scarves and beanies.
Arkell & Wills was one of the first retailers to sign-up to Cheltenham Beauty Week, getting behind the campaign to get Cheltenham #FeelingGood! To celebrate the event, the store will be offering a 10% discount on purchases made through their website, for any new customer, during beauty week 2018.
Get the discount:
Shop as normal via the Arkell & Wills website here: https://www.arkellandwills.co.uk
For any first time customers, use the code BEAUTY10, anytime between 21st April and the 28th April 2018. The discount code won't be valid before then!
Terms and conditions:
Offer only valid on purchases made through the website, by first time customers, between 21st April and 28th April 2018.
Related
0 Comments