81 The Prom





81 Promenade
Cheltenham
Gloucestershire
GL50 1PJ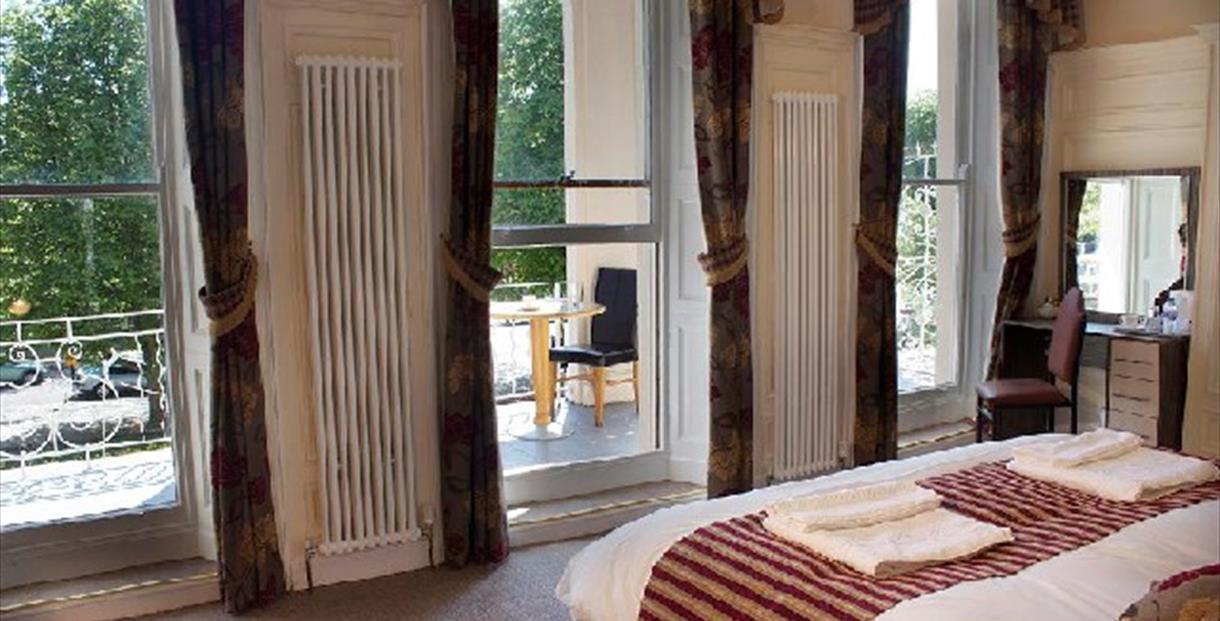 Booking Details:
Arrival Date:

Tues , 24th July 2018

Departure Date:

Wed , 25th July 2018

No. of Nights:

1
About
81 The Prom Hotel is a recent addition to the heart of Cheltenham. Enjoy a break in Cheltenham, looking out over the Promenade and Royal Well, whilst staying in the comfortable bedrooms of this traditional Regency Building.

81 The Prom Hotel has been beautifully refurbished to a high standard, while retaining many of the original period features of its listed building. Having created a special place in the heart of Cheltenham, this is a very unique place to enjoy a break, with many chances for retail therapy just on our doorstep. Or enjoy a great choice of fine dining establishments, with late night entertainment for those with stamina, as Cheltenham has lots to offer people of all age groups.

Throughout your stay this family run establishment will make you feel totally at home. Ideally located; you can take in all the events our beautiful spa town has to offer. Cheltenham's famous racecourse is within walking distance, along with the Town Hall with its many events, and the Everyman Theatre. Go shopping at some of the extensive range of boutique or specialist shops in Montpellier or the suffolks.

We are ideally located in the heart of the Cotswolds and a short drive will take you into many areas of outstanding natural beauty.

Why not book into 81 The Prom Hotel, enjoy a freshly cooked breakfast, full English breakfast, or a Punjabi breakfast, then in the evening come and have dinner in our great traditional Punjabi restaurant, where you will be served real Indian food as enjoyed in India itself. We also have a fantastic in - house bar that serves outstanding cocktails along with a fine selection of whiskeys, ales and wines.

The train station is just over a mile away with regular buses and taxis going to and from the town centre. The Royal Well coach station is located immediately behind 81 The Prom Hotel, the towns main Taxi Rank is only a stone's throw away, on the main Promenade, available throughout day & night every day of the week.

Guide Prices
Number of Rooms / Units

7
Room / Unit Type
Room / Unit Tariff

*

De Luxe Double Room
Double Room
Double Room available as twin
Executive Balcony Double Room
Family Room
Small Double
*Gold Cup week prices by request.
Gradings

Facilities
Catering
Bar - In house cocktail bar
Cater for vegetarians
Half board supplement (£) - Evening 2 course + side meal for guests £12
Local Produce English Breakfast
Serve breakfast - Full English or Punjabi breakfast.
Children & Infants
Accept children (Minimum age) - Minimum age 5.
Highchair
Establishment Features
Business facilities (eg. Fax/ modem) - Fax machine available.
Central heating throughout
Ironing facilities - Ironing board and iron available.
Licenced for alcohol
Key Features
In town/city centre
Non smoking establishment
Townhouse
Languages spoken
Parking & Transport
Car parking - Allocated to specific rooms.
Off site parking
Payment Methods
All major credit cards accepted
American Express accepted
Room / Unit Features
Colour television in all bedrooms - HD TV with Freeview
Electric shaver point
Free View TV
Hairdryer in all bedrooms
Tea & coffee making facilities in all bedrooms
WiFi
Travel & Trade
Opening Times
2018
(1 Jan 2018 - 31 Dec 2018)
Directions
Road Directions
By car
From the north - M5 junction 10
• Leave the M5 at junction 10, then merge onto the A4019 (signposted Cheltenham)
• At roundabout take the 2nd exit onto the A4019 (signposted Cheltenham)
• Bear right onto High Street High Street
• Turn right onto Ambrose Street Ambrose Street
• Turn left onto Clarence Street Clarence Street
• Turn right onto Crescent Place Crescent Place
• Turn left onto Crescent Terrace Crescent Terrace
• Turn right onto Promenade
• Arrive at GL50 1PJ, 81 The Prom, cheltenham
From the south - M5 junction 11:
• Leave the M5 at junction 11, then at roundabout take the 3rd exit (signposted Cheltenham, Gloucestershire Airport)
• Continue forward, then merge onto the A40
• At Arle Court Roundabout take the 3rd exit onto the A40 (signposted Cheltenham)
• At Benhall roundabout take the 2nd exit onto the A40 (signposted Town Centre, Oxford)
• At Westal Green keep left (signposted Town Centre, Oxford) A40
• At roundabout take the 1st exit onto the A4015 (signposted Town Centre)
• Continue forward onto the A46
• Keep in right hand lane then bear right onto Clarence Parade - A46 (signposted Inner Ring)
• Turn right onto Crescent Terrace Crescent Terrace
• Turn right onto Promenade
• Arrive at GL50 1PJ, 81 The Prom, Cheltenham
From the south east - A40
• A40 (signposted Cheltenham)
• At roundabout take the 2nd exit onto the A40 (signposted Cheltenham)
• At traffic signals bear right A40
• At traffic signals continue forward onto the A435 (signposted Town Centre)
• At traffic signals continue forward onto the A46 (signposted Evesham A435)
• Keep in left hand lane then continue forward (signposted Gloucester, Stroud) A46
• Keep in right hand lane then turn right onto Oriel Road (signposted Other Routes)
• 0.21 Keep in right hand lane then turn right onto Promenade (signposted Tewkesbury A4019)
• Keep in right hand lane then bear right onto Clarence Parade - A46 (signposted Inner Ring)
• Turn right onto Crescent Terrace Crescent Terrace
• Turn right onto Promenade
• Arrive at GL50 1PJ, 81 The Prom, Cheltenham
Public Transport Directions
Directions
By bus
Bus routes: 10, N10, 46, 97, 98, 94 and 94x all stop on the Promenade, 81 The Prom opposite the bus stops.
Bus routes: A, D, 41, 42, F, G, H, P, Q all stop on North Street
• Turn right onto High Street
• Turn left onto Promenade
• Follow Promenade down
• 81 The Prom, on the right
Bus routes: C, A, H, and D all stop on the High Street
• Turn left onto the Promenade
• Follow Promenade down
• 81 The Prom, on the right

By train
Cheltenham Spa train station
The Cheltenham Spa Train Station is located 1.7 miles south of the town centre, a 10 or 15 minutes bus rid on Stagecoach Service D. It is a very well served train station with direct trains to London Paddington operated by First Great Western, direct trains to Birmingham, Leeds, York, Edinburgh and Glasgow, Manchester, Bristol, and Plymouth operated by Virgin, and the towns and cities between Cardiff and Nottingham with Central Trains.
Directions from the train station
• Turn right onto Glencairn Park Road
• Turn left onto the A40
• At Westal Green keep left (signposted Town Centre, Oxford)
• At roundabout take the 1st exit onto the A4015 (signposted Town Centre)
• Continue forward onto the A46
• Keep in right hand lane then bear right onto Clarence Parade - A46 (signposted Inner Ring)
• Turn right onto Crescent Terrace
• Turn right onto Promenade
• Arrive at GL50 1PJ, 81 The Prom, Cheltenham
TripAdvisor